Best Things to do in Jericho: Insider's Area Guide
Ready to discover the best things to do in Jericho, Oxford's ultra-cool area filled with brilliant pubs and restaurants? We've got you covered with this Jericho area guide.
Jericho is a cool suburb towards the northern outskirts of Oxford with an interesting history.
During the medieval era, when Oxford's city wall was erected, Jericho was a popular place where travellers could stay if they arrived later in the day – and this is actually where the name Jericho was thought to have come from.
Skip forward to the grizzly Victorian period and Jericho was an important industrial area, and today many of the properties boast original period features and the classic two-up-two-down layout that can be found in many Victorian homes.
More recently, Jericho was briefly used as a red-light district until the 1960s when the government planned to demolish every single one of the houses and start again – though this proved unpopular and so the properties were simply updated instead.
These massive updates led to plenty of younger people and families moving into the area, which explains how Jericho became known as Oxford's boho neighbourhood filled with cool boozers and restaurants.
Ready to explore?
Best Things to Do in Jericho
Delving into the spots you shouldn't miss!
Port Meadow
Oxford is full of beautiful parks, but Port Meadow is easily one of the largest and prettiest offerings, with the Thames running along the entire left side of the park.
Over 300 acres of open space awaits, so there's plenty to do here. Appreciate the stunning countryside with a chilled-out walk, admire the local wildlife (you'll spot ponies and cows grazing nearby), or even dabble in a spot of fishing or wild swimming.
Make sure to pack a picnic; there are lots of picnic benches dotted throughout the meadow.
Walk Along Oxford Canal
You're not short of picturesque walks in Oxford, but taking a walk along the canal path might just beat the rest.
Not convinced? The path takes you on a peaceful journey through the countryside, past villages filled with chocolate box cottages, decorated canal boats, and lots of undisturbed wildlife. Make sure to stop off for a pint in a pub on the way for the ultimate experience.
Pub Crawl of Jericho's Ye Olde Pubs
There's no better way to truly see Jericho than via a classic pub crawl – the whole area is teeming with Victorian boozers offering classic beer as well as an array of Oxford's local craft beers.
Start at the Rose & Crown to the north of Jericho and towards The Eagle & Child, passing spots like The Jericho Tavern, Jude the Obscure, The Old Bookbinders Ale House, and The Victoria on the way.
Want to know more about Oxford's historic pubs? Check out our complete guide to Oxford's best pubs.
Or a Cocktail Bar Crawl
If you're more into swanky cocktails bars rather than ancient pubs, you'll be glad to know that Jericho also has plenty of places where you can order a Margarita or two.
Love Jericho (LJ's) is a popular place to start – the vibe here during the week is casual, though things ramp up a little bit on weekends. Cocktail-wise, expect an extensive range of classics that will be sure to get the evening off to a flying start.
Freud Cafe and Bar is another much-loved cocktail joint, especially with students. Situated inside the Saint Paul's church, this cocktail bar is hauntingly beautiful with stained glass and high ceilings, serving up the drinks that were first made famous in its London sister's location.
Angels is a stylish spot with a smaller menu that changes often, bringing new and innovative concoctions to the forefront. And The Duke of Cambridge is a casual bar serving up a selection of exciting cocktails, surrounded by greenery and modern decor.
Oxford Ceramics Gallery
For a touch of culture, explore the Oxford Ceramics Gallery and its extensive collection of modern and historical examples of ceramics.
The independent gallery works mainly with UK artists but has also crafted close relationships with Danish and Japanese artists, so the majority of the ceramics on show will be of these origins.
The rotating exhibitions on show range from curated cultural items to showcases of collector's favourites, and you can check what's coming up here.
Phoenix Picturehouse
Although it originally started life off as a small independent cinema in the early 20th century, The Phoenix eventually became the first venue in the Picturehouse chain in 1989. It's one of the oldest cinemas in the UK and showcases a careful mix of major releases as well as indie and art-house productions.
Despite the chain's takeover, the interior of the venue is still ridiculously retro, with classic red seats and striped carpets encapsulating the vibe of early cinema perfectly.
Wine Tasting at Oxford Wine Cafe
One of the best things to do in Jericho is to go wine tasting at the Oxford Wine Cafe.
In fact, not only do they offer tastings that range from as little as £30 to a hefty £845 (as part of the WSET awards, in case you were wondering), but they also host a number of online professional courses and workshops that teach you everything from Sake making to how to differentiate notes in the wine.
If that sounds a little bit intense, feel free to pop into the shop on Little Clarendon Street for a glass or two.
Laugh Out Loud at Jericho Comedy
Spend an evening belly-laughing at stand-up comedy in venues across Jericho, courtesy of the famed Jericho Comedy Club and their talented group of comedians.
The comedy club has been graced by plenty of famous faces over the years, including James Acaster and Ed Gamble, who went on to become huge names in the comedy circuit, and the JCC has won plenty of awards in its time.
Common Ground and The Jericho Tavern are the usual venues, though you can find the upcoming shows here.
Where to Eat and Drink In Jericho
Brasserie Blanc
Located in the centre of Jericho, Brasserie Blanc is celebrity Chef Raymond Blanc's stylish French restaurant serving up traditional fare. The seasonal menus change often, which means that the freshest local ingredients are used in their French dishes to add a special British touch.
Expect the likes of Confit Duck Leg with Citrus Sauce and Smoked Pork Belly with Apple and Crackling to make the winter menu, with lighter alternatives on the spring and summer versions.
Of course, no French restaurant is complete without an impressive wine menu – Brasserie Blanc teams up with both local and global winemakers to bring you a selection that compliments your meal perfectly.
Jamal's
Situated opposite Brasserie Blanc on Jericho's busy high street, Jamal's is an authentic Indian restaurant.
The menu is full of classic Tandoori, Tikka, and Biryani dishes, as well as some more unique offerings like a Pakistani Kandahar with chicken or lamb and a King Prawn Korai. Order the unbelievably fluffy Tandoori Roti to mop up any leftover sauce and you're golden.
Or, if you're feeling wild, opt for the 4-course set meal and let the Head Chef take the lead by crafting you a bespoke meal.
The Rickety Press
The Rickety Press is a local favourite – a cosy gastropub with a pretty conservatory perfect for chilling out with a glass of wine on summery days.
The menu features burgers in abundance, and there are a couple of delicious vegetarian options to keep the whole party happy.
Your other main food option is pizza, one of which is the result of a collaboration with the Saltpig Curing Company: a delicious 'Nduja Bufala with 'Nduja, crushed tomatoes, and mozzarella. Pair with a portion of truffle fries and a local craft beer for the ultimate indulgent meal.
Pssst… The Rickety Press also does one of the most wicked brunches in Oxford.
Practical Tips for Exploring Jericho, Oxford
Jericho is one of the best areas in Oxford for nightlife – there are many pubs and restaurants nearby and it's only a short walk to the centre of Oxford.
Make sure you check out the vibrant independent scene in Jericho. There's an abundance of indie coffee shops and clothing stores that make it a cool place to explore.
If you only have time for one drink, head to The Jericho Tavern for a beer or Freud for a cocktail – these are the most popular for a reason.
Where to Stay in Jericho
Porterhouse Grill
The Porterhouse Grills is an ultra-stylish hotel with a brilliant restaurant downstairs. Bonus!
Old Parsonage Hotel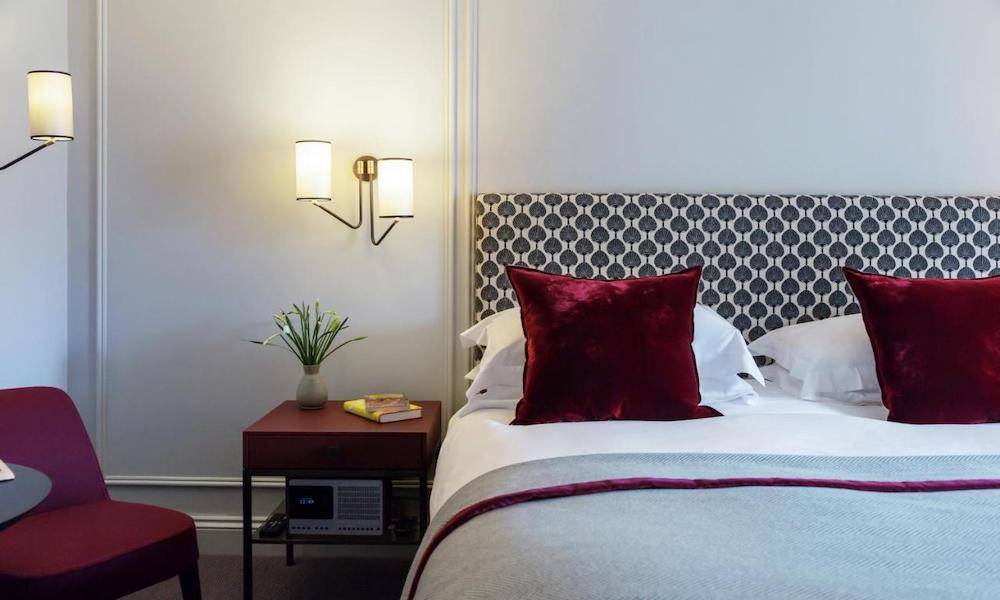 Old Parsonage Hotel is a pretty boutique hotel located inside a 17th-century building.
Map of Jericho