Insider Oxford is supported by readers like you. If you buy something through the links on the website, I may earn a small commission. Cheers! Learn More
24 hours in Oxford… You might think it's impossible but it's not. Here's an action-packed guide to prove it. The ultimate Oxford day trip travel guide with things to do, see, eat and drink.
Oxford has it all. A university that dates back to the 11th century, magnificent sandstone architecture and the kind of scenery that means you can't help but snap and share on Instagram (#nofilter).
If you are looking for a short break within easy reach of London, Oxford is perfect. Even if you aren't, you should go anyway.
It's a tough city to cover in 24 hours – there are 38 Oxford University colleges and six permanent private halls in the university alone. They're dotted all over the city, some closely grouped together, others further out than you ever thought possible (St Hugh's, I'm looking at you).
Read more: The Best Things to do in Oxford – 24 Oxford Attractions You Need to See
Oxford isn't all about the university either. It's a city of over 159,000 people and, between them, they've conjured up a wealth of tasty restaurants, cool drinking holes and engaging sites to keep you occupied on your Oxford day trip.
So it's impossible to see Oxford in 24 hours, then? That's what you're thinking, right? Wrong. It is not.
Here's the ultimate guide to how to spend 24 hours in Oxford and discover all that this charming city has to offer.
How to Plan Your 24 Hours in Oxford
The two easiest ways that you can get to Oxford on a day trip from London is to either get the coach or to get the train.
Both are relatively short trips (it's an hour on the train vs 1 hour and 7 minutes on the coach (if there's no traffic – and that's a big if) and leave from central London destinations that are easy to get to.
Oxford Day Trip by Coach
You have several options when it comes to taking the coach from London to Oxford. The main ones are:
Oxford Day Trip by Train
The train to Oxford runs from London Paddington and takes 1 hour. Return tickets start from £5.50 if you book far, far in advance – The Trainline is pretty good for this. If you're buying on the day, the ticket will cost around £26 for an off-peak day return.
8 am – Breakfast at Turl Street Kitchen
You are in for a long day (it will be fun though, guys, FUN), so you need to fuel up. You could eat a sad breakfast somewhere nondescript, or you could go to Turl Street Kitchen for a lesson on how breakfast should always be.
I'm not going to say there's a particular dish that you should try because, to be honest, I've eaten absolutely everything on the menu. And it's all incred!
The grilled kipper, lemon & black pepper butter and toast is divine (and has the added benefit of not smelling out your kitchen, as those of you who have ever tried to cook kipper at home can understand).
The bacon butty (sandwich) is the perfect example of a simple thing done very well. Or just settle for a flaky, buttery croissant and a coffee to ease you into the day. Breakfast is served from 8 am -10 am.
Read More: The Best Cafes in Oxford
9 am – The Ashmolean Museum
The Ashmolean Museum is Oxford University's museum for art and archaeology. It was founded in 1683 and now displays a diverse range of collections to over 1 million visitors per year.
The museum underwent a huge renovation in the late noughties and reopened in 2009. The result? A beautiful space where you can learn about the human stories that make up history dating from 8,000 BC to the present day.
The museum features a number of famous works, including The Hunt in the Forest by Paolo Uccello and Turner's Transept of Tintern Abbey, Monmouthshire.
Much as I recommend that you just have a look at their famous pieces, the Ashmolean truly shines when you pick up a guide and spend a few hours meandering around the different exhibitions.
Opening hours: 10 am – 5 pm Every day. Free entry.
Read more: 11 Must-See Museums in Oxford
11 am – Oxford Self-Guided Walking Tour (2 hours)
OK, so this bit is a challenge but not impossible. Although Oxford is a decent-sized city, the centre is really small.
Stick to the centre and you'll be able to see all the big hitters in two hours with no problem. To make it even easier, I've put together a step by step walking tour for you to follow.
Don't fancy a self-guided tour? Check out these recommended walking tours.
The Ashmolean Museum – Begin The Tour
Start your Oxford day trip tour at the Ashmolean Museum (which is well worth a visit). From the entrance of the Ashmolean, turn left and cross St Giles to walk along Broad Street.
Balliol College
Pop into Balliol College, one of Oxford's oldest colleges (which de facto means it's one of the oldest learning institutions in the English-speaking world).
You'll learn that almost all of the University's oldest colleges have a building or two that some of the students (and definitely the visitors) aren't so sure about – in this case it's the Balliol Chapel.
William Butterfield (who also designed Keble College down the road) envisioned a neo-gothic glory that would inspire visitors to give praise to God.
The final result is fairly controversial: it's been described as looking like a slice of streaky bacon and Aldous Huxley (a Balliol alumnus) couldn't stand the sight of it.
Sheldonian Theatre
After feasting your eyes on Balliol's chapel, walk back onto Broad Street until you come to the Sheldonian Theatre.
The Sheldonian, as it is affectionately known, is used for the university's matriculation and graduation ceremonies.
It was the first major commission for Christopher Wren (of St Paul's Cathedral fame) and was the first Neo-Classical building to be built in Oxford. If you're not impressed by these facts, you might be a tad more taken with the building itself.
The Sheldonian often hosts interesting talks and concerts – make sure you check out the programme when you visit to see if there's anything that catches your eye. But for now, our Oxford day trip tour continues, so there is no time to rest.
The Bodleian Library
It's a hop, skip and jump from The Sheldonian Theatre to our next destination, the Divinity School. This is a part of the Bodleian Library – the ceiling consists of lierne vaulting – you might just recognise…
PS: Did you know that the Divinity School is one of Oxford's many Harry Potter filming spots? Read the full guide.
Safe to say, it's beautiful and well worth seeing, particularly when you are five seconds away anyway.
The Bodleian (or the Bod to those in the know) is one of the oldest libraries in the UK, and is also one of the biggest.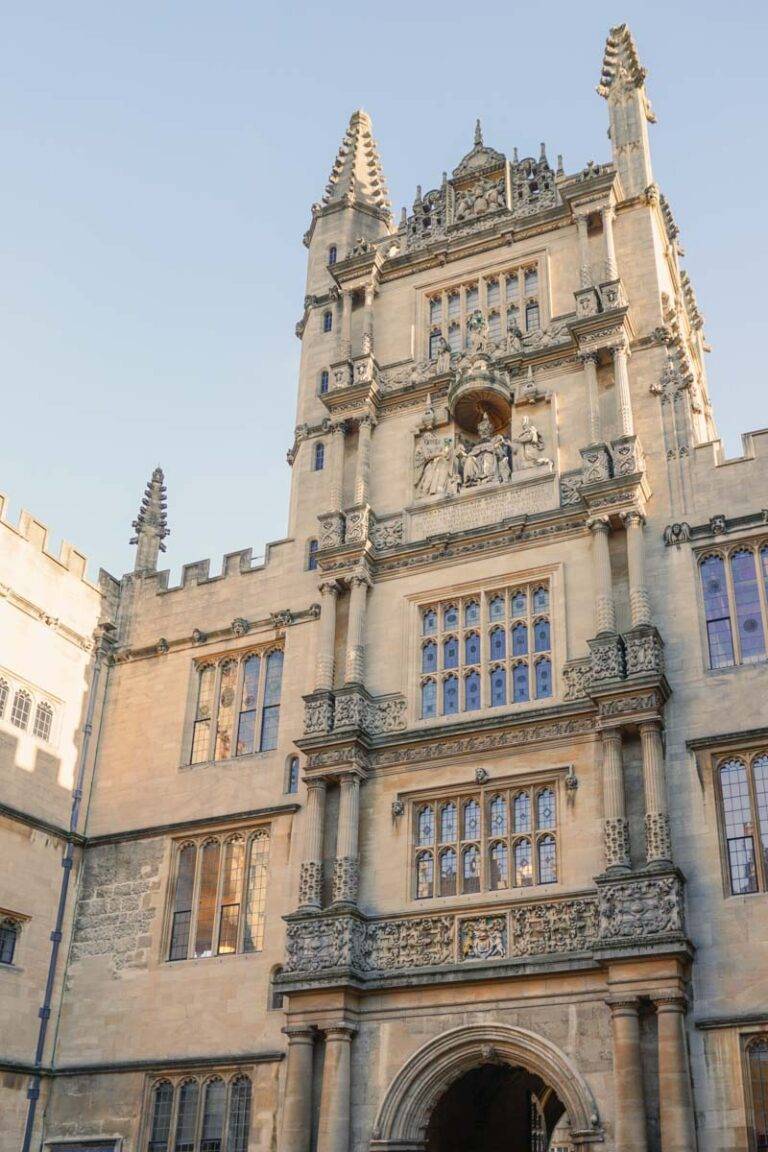 In 2016, the Bodleian purchased its 12 millionth printed book. 12 million! The average book is 25cm long, so there are 3,000 kilometres of end-to-end books in the Bod. Hope you're enjoying these geeky facts!
Well, maybe I'm being a bit misleading by saying the Bodleian Library has 12 million books, because really the Bodleian Libraries (of which there are several) who collectively own that number of books but whatever, creative licence and all that.
Anyway, the Old Bodleian Library has a lot of books and a beautiful building.
The Radcliffe Camera
If you turn right out of the main entrance to the Old Bodleian Library and walk about 10-15 metres you'll see it for yourself. A striking, round building.
This is the Radcliffe Camera (otherwise known as the building that launched a thousand Instagram snaps. You won't be able to get into the Radcliffe Camera unless you book onto one of the tours of the Bodleian but it's so pretty from the outside that you can probably live with that.
Narnia in Oxford
Stick your head into Hertford College and have a nose around before making your way to the University Church of St Mary the Virgin. There's been a church on the site of St Mary's for over 1,000 years.
A much newer addition is the Vaults and Garden Cafe, which serves up a mean piece of cake – I dare you to resist.
Hungry? Here's why The Vaults is one of our picks for the top afternoon teas in Oxford.
After St Mary's, C.S Lewis lovers should detour down the right hand side of the church and look for an ornate door flanked by two golden fauns. Legend has it that this is the very door that inspired the wardrobe in The Lion, the Witch & the Wardrobe.
In fact, if you turn and look back to the Radcliffe Camera, you'll see an ornate lamppost, which is also supposed to be the inspiration for the famous post in the book.
Examination Schools and Magdalen College
Your next stop on your Oxford day trip is Magdalen College, a fairly short walk down the High Street. If you think you have enough time, Queen's College and University College are both very pretty and quaint, but it's up to you.
On your way to Magdalen, you can also spy the Examination Schools.
If you are in town during exam time, expect to see students dressed up in sub-fusc and either smiling like the cat that has got the cream or crying tears of sheer panic (I speak from experience of both).
Whether or not you've stopped at Queen's, Univ and Exam Schools, you'll eventually get to Magdalen. Magdalen is one of Oxford University's most famous colleges. In a city that's fairly fancy overall, Magdalen is so fancy it has a deer park of its own. I KNOW.
Apart from being mega-fancy, Magdalen is also renowned for its May Day tradition, where the choir sing from the top of Magdalen tower at 6 am.
If you are ever around in Oxford for May Day, it's traditional to stay up all night (preferably around a bonfire in Port Meadow to the north of the city) and then trundle over to see the Magdalen choir sing before having breakfast and passing out from exhaustion in bed.
Now that would make for a pretty epic Oxford day trip.
Christ Church Meadow
After Magdalen, cross the High Road and walk down Rose Lane to Christ Church Meadow. The meadow is a peaceful haven from the busy High Street. Both of Oxford's rivers, the Isis (the Thames) and the Cherwell run alongside the grounds.
Christ Church Meadow hasn't always been this peaceful. Oxford was the Royalist capital of England and home to the court of Charles I during the English Civil War.
The meadows played an important role – they were a defence against the Parliamentarian forces, and, when that failed, Charles I and his army used the meadow to escape from Cromwell's army in 1646.
On a much lighter note, the meadows are also the setting for some of the scenes in Alice in Wonderland.
Writer Lewis Carroll (real name Charles Dodgson who was a lecturer at Christ Church) took Alice Liddell (for whom the stories were written as well as inspired by) for many a walk in the meadows. In fact, he wrote a large part of the book while sitting in them.
Christ Church College
Christ Church Meadows are (unsurprisingly) owned by Christ Church College.
If Magdalen was one of Oxford's most famous colleges, Christ Church is the most famous. It was where Charles I lived and dined during his tenure in Oxford, it boasts the smallest cathedral in the world and…. it's home to the dining hall of Harry Potter fame.
There's also the Tom Tower, which was designed by Christopher Wren (again). Overall, there's so much to see at Christ Church that if I tried to describe it, this already mammoth post would become even bigger, so check out their website.
I've put together this handy map of the tour, too, so you shouldn't get lost!
Your two-hour walking tour of Oxford University is over.
Want more? Guess what? There's more – just carry on reading for the remainder of your Oxford day trip travel guide.
By now, you know everything about Oxford, and it's time for bed, right? Incorrect.
PS – this might be a good time to stop off in The Bear – one of Oxford's best (not to mention one of its oldest) pubs. It's right next to Christ Church
1 pm – Pick up a packed lunch and head to the Oxford Botanic Gardens
After all of that walking, you're bound to be a bit tired and hungry – so the next stop is going to be a little bit more chill.
Walk up St Aldates from Christ Church and turn right back onto the High Street to pick up a packed lunch. I recommend Taylors for their heavenly made-to-order baguettes, or you can stop in the Covered Market to pick up a tasty meal there.
Continue walking down the High Street until you come to Magdalen again and head into the Botanic Gardens across the road (entry £5 for adults).
In my opinion, The Botanic Gardens is one of the prettiest spots in Oxford. Despite being outshined by its London neighbour (shakes a fist at Kew) it's the oldest botanic garden in the UK (dating from 1621) and has been fulfilling its mission "to promote the furtherance of learning and to glorify nature" ever since.
There are lots of benches dotted all over the gardens, some overlooking the Cherwell river.
Bag a spot on one of these to eat your lunch before exploring the gardens at large. Thousands of plants are artfully arranged in two main sections, the Walled Garden and the Lower Garden.
The beds within each garden are organised around different themes or purposes, such as the Medicinal Plants bed in the Walled Garden or the Gin Border in the Lower Garden. Yes, you heard us right, a Gin Border.
Don't forget to pop into the huge greenhouses, they're crammed with soaring cacti and lush palms. Just walking around them basically feels like you have been transported to the other side of the world.
3 pm – The Museum of Natural History / Pitt Rivers Museum
Once you've rested up a bit and seen your fill of the Botanic Gardens, walk up Longwall Street (which goes on to become St Cross Street and South Parks Road) until you get to the end of the road.
Just to the right, you'll find the Oxford University Musuem of Natural History and the Pitt Rivers Museum.
The two museums are housed in the same building, so it is definitely worth seeing both of them. Together, they contain the university's zoology, entomology and mineral collections. They're basically like a smaller, more manageable version of the Natural History Museum in London.
Lewis Carroll used to visit here with Alice, too and it's said that Jan Savery's Dodo (one of the exhibits in the museum) was the inspiration for the dodo in Alice in Wonderland.
Opening hours: 10am-5pm daily. Admission is free.
Read More: Free Museums in Oxford You Need to Visit
4 pm – The University Parks via Keble College
As you exit the Museum of Natural History, you'll be facing a huge redbrick, crazily patterned and ornate building.
After the sandstone-fest that is the majority of Oxford University, Keble College's dramatic Victorian gothic buildings provide a breath of fresh air.
Remember earlier in the post where I referenced Balliol's controversial Chapel, designed by William Butterfield? Well, Butterfield designed the whole of Keble College and the result is equally controversial.
I love it… but others, not so much.
Anyway, you should visit. It has the largest sunken quad in Europe, a gorgeous chapel, and the dining hall puts that tiny thing in Christ Church to shame.
Keble's Chapel also houses the famous Holman Hunt painting The Light of the World – I've never been able to see the appeal but it's famous and it's there so maybe you want to hunt it out.
Across the road from Keble College is the University Parks. The University Parks provide a welcome home for many of the university's sports clubs.
Don't be surprised if you see a game of rugby, cricket or quidditch taking place. That's right. Quidditch!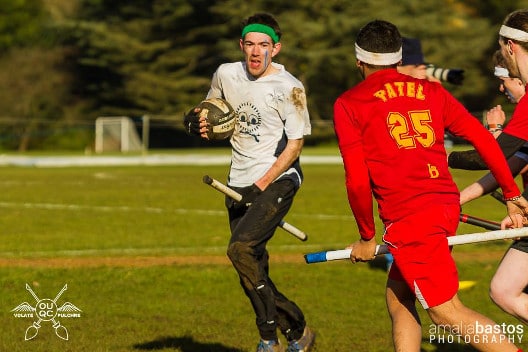 The fictional sport from Harry Potter has been rendered real by mudbloods muggles running around with a broomstick between their legs.
I wish this existed while I was at university—it might have counterbalanced the sheer number of takeaways. Probably not.
6 pm – Happy hour at The Duke of Cambridge and Cocktail bar hopping in Jericho
You've worked hard on your Oxford day trip. Your hard work is done. Now is the time to drink and feast.
Luckily Jericho (home to some of the best cocktail bars in Oxford) is just a short walk away.
Make your way to The Duke of Cambridge and make full use of their excellent-value Happy Hour(s). The mixologists at the Duke are something else, and it shows in the menu. Happy Hour lasts until 9 pm Sunday – Thursday and until 7:30 pm on Friday and Saturday.
Cocktail bars are something that Jericho does really quite well – while in the area, you should also take a drink at Raoul's, Freud's and Angels. Just not too many drinks… that would be irresponsible.
Read More: Awesome Cocktail Bars in Oxford
8 pm – Dinner at Gees Restaurant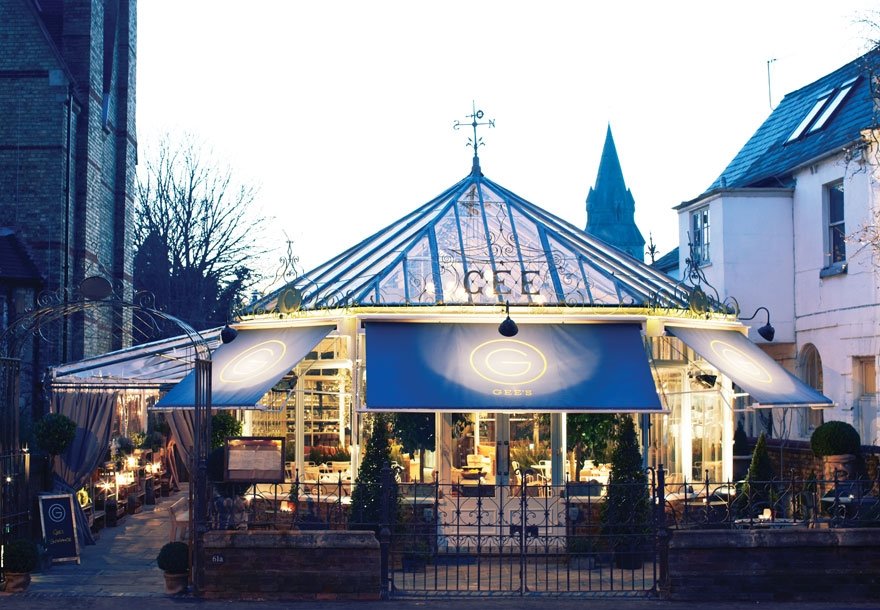 By now, you should be well and truly ready for dinner. Gee's is such an Oxford institution that it would be a shame to miss it (and, it finally just reopened – woohoo!).
The food is stellar, and the location is just dreamy: a huge glass house filled with plants and trees.
The menu is extensive and ranges from Jerusalem artichoke, red onion and rosemary risotto to monkfish tails with potatoes, chorizo & kale. Their cocktails are also highly recommended (#justsayin). Leave space for dessert.
10 pm – Bed, Back to London, or These Nightlife Picks
And there you have it. Your Oxford day trip is over.
This would be about the time that most people are ready to turn in (OK, just us then) or hop on the transport back to London, but if you're ready to take on Oxford's nightlife, there's enough to keep you entertained until the wee hours.
You can head back to Jericho to the cocktail bars, which open quite late, or the area around New Bridge Street and Park End Street has quite a few clubs for you to choose from – The Bridge and Atik are probably the best of them.
Now go and rest your weary feet.
Love This 24 Hours in Oxford Guide? Share on Pinterest!