19 Gorgeous Walks in Oxfordshire
Insider Oxford is supported by readers like you. If you buy something through the links on the website, I may earn a small commission. Cheers! Learn More
Looking for the best walks in Oxfordshire? Look no further than these brilliant pedestrian routes.
I really think Oxfordshire is a walker's paradise right on the edge of the Cotswolds and surrounded by gorgeous estates with peaceful public footpaths. Not to mention how walkable the city of Oxford is.
Whether you fancy a pretty jaunt through the historic city centre of Oxford, or if an escape to the picturesque countryside sounds a bit more up your street, there are so many walking routes and country paths in Oxfordshire that are perfect for meandering along.
Let me walk you through (ahem, pardon the pun) some of the best places for a stroll in Oxford and then in the wider Oxfordshire area, just in case you fancy getting out of the city.
Oxford Walks
City Wall Walk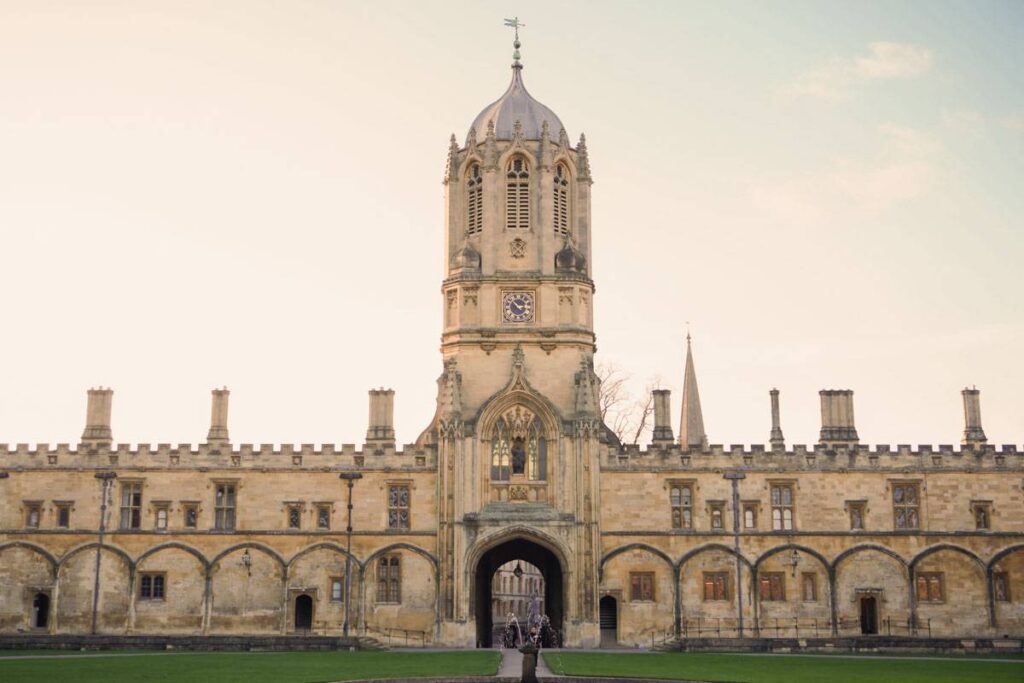 If you're looking to see the main historical sites in Oxford, the City Wall Walk is the best way to do it.
The walk begins at the Folly Bridge and takes you around the outside of where the medieval city walls would have stood hundreds of years ago. You'll pass by sections on Brewer Street where parts of the wall still stand, as well as places like St Michael at the Northgate, which was actually the original entrance to the city.
Whilst this walk should technically only take around an hour to complete, I highly recommend you keep the best part of the day free. You're going to pass sites like Christ Church Meadow and St Mary's chapel, and you should take the time to explore them fully during your walk.
Top tip: Make sure to grab a brilliant brunch at one of these places before you start your walk in the city centre.
Distance: 3 miles (5km)
Want to do a guided walk instead? Check out one of these Oxford Walking Tours.
Jubilee Walk
If you're looking to take on a bit of a longer walk in the countryside, the popular Jubilee Walk takes around 2-3 hours to complete and treats you to some stunning views.
The Jubilee route is actually pretty famous and has been used by ramblers since 1985, so you'll be in great company on your walk.
Again, you'll be starting at Folly Bridge, following the Thames path and heading towards just south of the city, passing the likes of Jarn Mound and Chilswell Farm before making your way back up to Oxford.
The best part about this route is that it's actually signposted for you, so you can breathe a big sigh and relax knowing that you're not going to end up miles away on the other side of the Cotswolds.
Distance: 10.3 miles (16.5km)
The Spires Walk
Taking just over an hour to complete, The Spires Walk is one of our favourites in the city (or just outside of Oxford).
You'll be starting at Boars Hill for this one and following the path along three main areas: The Old Berkeley Golf Course, Chilswell Fields, and finally, Signal Elm Field. You then retrace your steps to finish where you started. Simple, right?
Along the way, you'll pass the grand oak tree that inspired Poet Matthew Arnold to write Thyrsis in 1865 – and with panoramic views like this one, it's no wonder he did.
This easy walk is best suited to those who want to go at a slower pace to really appreciate the dreamy spire view of the city centre. This is what makes it one of the best Oxford walks in the guide.
Distance: 2.5 miles (4km)
Castle Mill Stream Walk
Easily one of the most beautiful city centre walks around Oxford, the Castle Mill Stream Walk takes you on an exciting journey along charming waterways and countryside before leading you right back to the historic centre.
For ease, it's recommended that you start at Walton Well Road car park, although you could start at any point on the map you wanted and make your way around.
You will begin by heading towards Osney Lock before reaching the portion where Thames joins with the Castle Mill Stream and then towards the castle in the centre of Oxford. You'll finish the walk by wandering along the Oxford canal path before heading back to the car park.
This walk really is the best of both worlds – a little bit of city and a little bit of countryside.
Distance: 3.5 miles (5.6km)
Folios and Fossils
So, this is definitely a shorter walk around Oxford, but boy, does it deliver!
The Folios and Fossils jaunt through the centre of Oxford was created by the Oxford Civic Society in an attempt to help people learn more about the history of the city. I recommend following the suggested map, as it has some really interesting historical tidbits about Oxford.
The route may not be very long, but along the way, you pass the likes of the Bodleian Library, The Ashmolean, and the iconic Radcliffe Camera, so it's worth carving out the time in your afternoon to explore all of the stops fully.
The walk starts by letting you admire the sculptures of books in Bonn Square before passing university sites, museums, and libraries on your way to the endpoint of Sackler Library.
If you're interested in the city and its history, this is probably going to be your favourite Oxford walk.
Distance: 1.5 miles (2.4km)
The Trout Inn Loop
The Trout In Loop in North Oxford is more of an intermediate hike, with the route running parallel to the Summertown and Sunnymead areas of the city.
The best place to start the walk is at Clifford Place Bus Station. You'll then be making your way around Port Meadow to the ruins at Godstow Abbey, which was originally built on an island sitting between streams that ran into the River Thames.
Carry on, and you'll come to the picturesque Trout Inn Pub, which overlooks the river and makes for a great drink break.
The terrain can be a little bit uneven, so this path is best suited to those with a little bit more experience, but overall this is a brilliant walk for those looking to see something a bit more unique.
Distance: 4.5 miles (7km)
Thames Path to Abingdon
If you're already in Oxford and want to get out of the city, you can wander along the Thames Path towards Abingdon – and back again if you're feeling really brave.
This is a moderately challenging route that can take anywhere from 3 to 5 hours to complete. The best part about this route is that there are plenty of markers along the way, and it simply follows the Thames, so you'll struggle to get lost.
Though, fair warning that it can get a bit muddy along the path. So, keep this in mind if it's been raining in the days leading up to your walk.
Also, there's an abundance of charming pubs along the way where you can stop by for a bit of lunch (or a mid-walk pint if you need a boost).
Distance: 9.6 miles (15.4km)
Christ Church Meadow
Just behind Christ Church College in Oxford sits Christ Church Meadow, a beautiful place to enjoy an easy walk in the city.
In fact, it takes around an hour to complete – though make sure you spend some time admiring the scenery, it's pretty beautiful in these parts.
Start near the War Memorial Garden – and view the pretty rose beds – before turning right and heading south towards the Thames. From here, it's a simple circular path that passes the likes of Jubilee Bridge and the Botanic Garden.
Distance: 1.5 miles (2.4km)
Oxford to Didcot
If you're after an easy route that challenges your stamina, how about walking from Oxford to Didcot? It's not as difficult or laborious as it sounds, I promise.
It might take up the best part of a day, but what a beautiful day it will be! As you wander through gorgeous fields and spot wildlife hanging out nearby. Bridges, expansive fields, and plentiful nature await.
The route starts at Long Bridges Nature Park and meanders south past Iffley Meadows and heads toward Ladygrove – pop into The Generous George pub after, you deserve it. Is it any wonder that this is one of the best walks around Oxford?
Distance: 13.2 miles (21.4km)
Walks in Oxfordshire
If you've exhausted the city walks or just want to venture a little bit further out of the Oxford area, give one of these walks a go…
Blenheim Palace
Blenheim Palace sits just outside of the city centre in Woodstock, and its gorgeous grounds are home to multiple walks, all varying in length and difficulty.
Whether you want a post-picnic stroll along the lake area or want to peruse the formal gardens, there's a route for everybody to get involved with.
Personally, I'd go all out for this walk near Oxford and opt for the 4.6-mile walk around the total perimeter of the park. You get all the brilliant views of all the shorter walks and then some.
The best part? The gardens are dog-friendly, so you can bring your pooch along to enjoy the walk too.
Distance: Various
Chipping Norton to Over Norton
The Cotswolds are a notoriously beautiful part of the UK. In fact, I could recommend just about any walk in the region and guarantee you wouldn't be disappointed.
But, as someone who has spent a lot of time here over the years, the walk between Chipping Norton and Over Norton is one of the best.
Make your way through this Area of Outstanding Natural Beauty, starting at the Crown and Cushion Hotel on Chipping Norton's high street and heading towards Over Norton before making your way back.
This whole walk is signposted, as it was actually set up as part of the Step Into The Cotswolds initiative, and there are plenty of little pubs and cafes along the way if you need to stop for a mid-walk refreshment. There are really cute pubs in the area!
Distance: 2.7 miles (4.5km)
Minster Lovell Circular Walk
Minster Lovell is one of those quaint English towns you see a picture of and can't get out of your head. It's just so beautiful.
Located a pretty 30-minute drive from Oxford, this walk promises dramatic sights, ruins, and plenty of opportunity for wildlife spotting in woodland areas.
You'll start in the village, greeted by chocolate-box cottages and traditional English pubs, before making your way along to Crawley past the River Windrush and back.
Be aware that this walk can get slightly muddy in places (pack your wellies in the winter!), and take care to ensure that your dog doesn't spook the cows if you decide to bring your furry friend along.
Distance: 3.6 miles (5.8km)
Greys Court National Trust
Fancy walking with a Tudor country house and impressive gardens as the backdrop? Of course you do.
Grey's Court is located in Henley-on-Thames and offers a brilliant yet compact walk around the property and through its grounds. The National Trust site is just 40 minutes by car from Oxford, surrounded by The Chiltern Hills.
Grey's estate walk leads you through farmland and beech woods – this is a great one if you've got kids with you, and there's even a mini pathway maze on the estate, which is fun for both the kids and adults.
The area is perfect rambling terrain, although it can get a little muddy sometimes, so bear that in mind when planning your walk.
Distance: 1.8 miles (3km)
Suggested map (The walk is fully signposted)
Henley and Warburg Nature Reserve
How does a 13-mile circular ramble through the Chiltern Hills and Warburg Nature Reserve sound? Now don't panic – this is one of the longest walks near Oxford but, rest assured, it's manageable for most levels of fitness.
Over the course of about 5 hours you'll make your way from the nature reserve, all the way around to the nettlebed and back again.
You'll get to see many species of plants and animals on your hike, as well as impressive floral displays in the gardens. Make sure to keep your eyes peeled for the soaring Red Kites that fly above.
This walking route is also brilliant if you would rather cycle, so you have the option to bring your wheels and make your way through the Chilterns.
The walk starts around 45 minutes away by car from Oxford but trust me, it's worth making the journey over to Henley!
Distance: 13 miles (21km)
Bourton on the Water
Bourton on the Water is another Cotswolds gem, and while you could (and should) spend some time inside this character-filled village, it would be absolutely criminal of us to not share this with you – It's one of our favourite walks in Oxfordshire.
Starting at the bridge in the centre of the village, you'll head towards the sleepy village of Wyck Rissington. Luckily, this walk is all signposted public footpaths, so it's a breeze to wander between the two places.
Along the way, you'll pass many rural farms and nature reserves. There's even a carp farm just a short detour away.
Whilst this is a gorgeous walk all year round, undertaking it in the early autumn, just as the leaves start to change colour, will give you the best views.
Wanna hear the best bit? Both Bourton on the Water and Wyck Rissington is filled with traditional English pubs, so you can reward yourself at either end with a pint. Or both. I won't judge.
Distance: 4 miles (7km)
Jurassic Way
Now, this is a walk (or should I say hike) for well-seasoned hikers. This multi-day route starts near Banbury and takes you all through North Oxfordshire and Northamptonshire's most scenic spots.
Not for the faint-hearted, this route takes you through rural villages and bigger towns, promising beautiful views of the surrounding landscape.
Leave Banbury for Middleton Cheney and then make your way north to Stamford. Along the way, you'll pass the likes of Charwelton, Wardington, and Great Easton – all spots brimming with charming country pubs.
I recommend calling it a night around West Haddon, approximately halfway through the route – or stretch this walk along a few more days and make pit stops in Market Harborough and Hellidon. This is our top choice out of all the excellent Oxfordshire walks.
Distance: 88 miles (143.2km)
Pinsley Wood
Here's an easy walk near Witney, Oxfordshire, for those who fancy a chilled-out stroll through the countryside. This loop around Pinsley Wood takes around an hour to complete, though you can easily extend this if you wanted to take things at a slower pace.
Along the way you'll pass St Peter and St Paul's church, and there are no livestock on the route which makes this perfect for your furry friend to tag along.
Top tip – head here in April when the fields of bluebell are in full bloom.
Distance: 2.2 miles (3.5km)
Farmoor Reservoir
If you're in the mood for a challenging walk, but not quite to the level of the Jurassic Way hike, the Farmoor Reservoir country walk is perfect for you. In fact, it's one of the best walks Oxfordshire boasts.
Be warned that this is a popular route as it blends views across the reservoir with bird-spotting opportunities and the chance to stroll along the Thames.
The countryside walk is signposted the entire way, once you get to Farmoor Bridge, cross and head back to where you started via the loop. It takes around two hours to complete, though you can bring a book and chill out by the reservoir if you fancy a pit stop halfway through.
Distance: 3.6 miles (5.8km)
Jarn Mound Via Heath
One of the easiest and most picturesque walks in Oxfordshire is this looped jaunt around Jarn Heath. Situated a 10-minute drive from the city centre, this is a relaxed walk that only features a slightly steep section.
The artificial mound was created by archaeologist Sir Arthur Evans so that hikers could admire the surrounding landscape – it's the perfect reward after embarking on your 30-minute walk.
The car park is an easy starting point, from there, it's a path route around the entirety of the heath. Our advice? Take on the walk backwards so you can enjoy the views at the end.
Distance: 1 mile (2km)