Oxford Harry Potter Locations: A Self-Guided Tour
Insider Oxford is supported by readers like you. If you buy something through the links on the website, I may earn a small commission. Cheers! Learn More
Oxford + Harry Potter = the ultimate adventure. Don't believe us? Get your wands out and bring your broomsticks – we're going to explore this magical city on a self-guided Harry Potter tour of Oxford.
If you asked us to name two of our very favourite things, we can hand on heart say that Oxford and Harry Potter would be our picks.
Why? Have you seen a photograph of Oxford? It's beautiful – not to mention filled with so many brilliant things to do.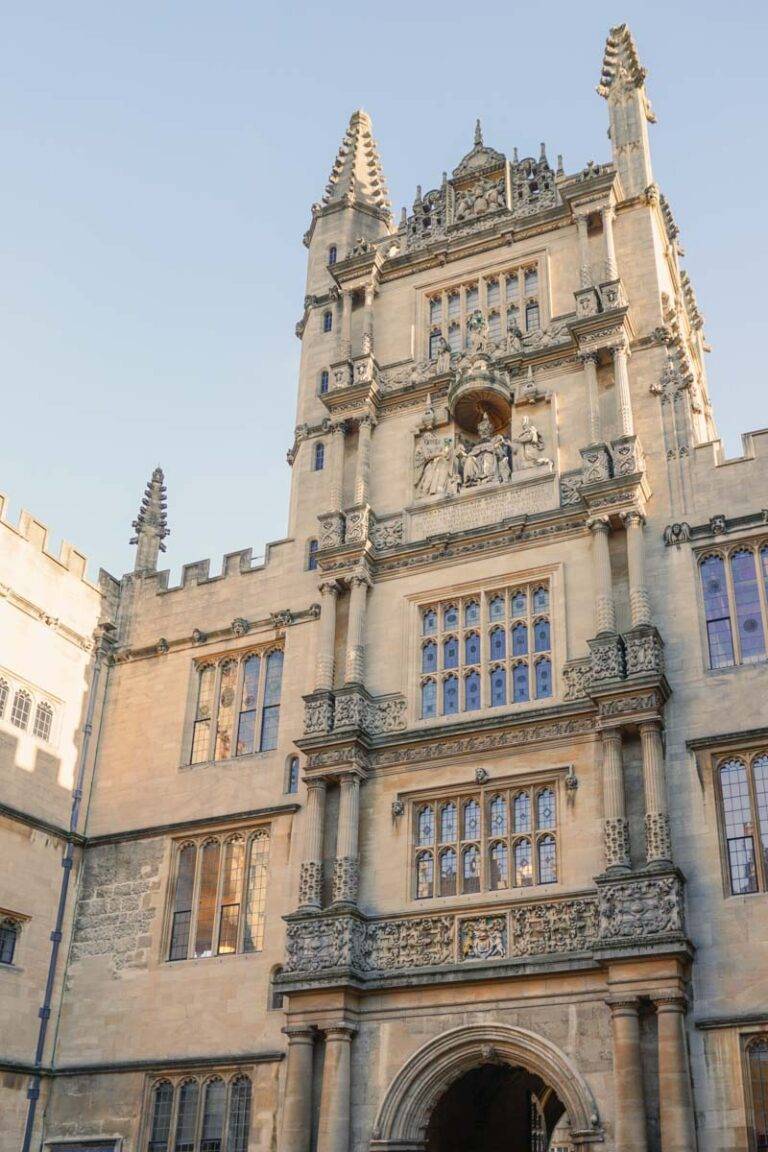 As for Harry Potter – need we explain? A fantasy world filled with wizards that just so happens to be some of the cosiest movies (that we rewatch every single autumn). We're not obsessed, ok? Fine. We totally are!
But we're guessing that if you're reading this, you'll totally understand. So what are we waiting for? Let's set off on our Oxford Harry Potter tour.
Was Harry Potter Filmed in Oxford?
Yes! Some parts of the Harry Potter films were shot in Oxford, along with other British destinations like London, nearby Blenheim and Alnwick.
PS: If you want an in-depth guide to Oxford's top sights, check out our guide to the best things to do in Oxford.
What are the Oxford Harry Potter Locations?
At a quick glance, Harry Potter was filmed in the following Oxford locations.
Christ Church College – Bodley Staircase
Christ Church College Hall
Christ Church College Cloisters
Bodleian Library – Divinity School
Bodleian Library – Duke Humfrey's Library
New College – Cloisters
New College – Courtyard & Tree
Guided Harry Potter Oxford Tours
🦉 We give you more than enough information to do your own self-guided Harry Potter tour of Oxford. However, we know that some people still like to have a guide to show them around. If that's you, you can browse these highly recommended Harry Potter guided tours.
Self-Guided Harry Potter Tour Oxford
Christ Church Hall
First up, Christ Church.
Christ Church contains quite a few stops on the Harry Potter Oxford tour, so although you have to pay an entrance fee to get into the college, it covers more than one filming location.
This historical college has a long and illustrious history that saw it founded as the pet project of Cardinal Wolsey, before being nabbed and renamed by Henry VIII (we guess that being king has a fair few advantages). It was later used as the Royal base during the English Civil War.
All very interesting, but Christ Church also just so happens to be the Oxford College most connected with Harry Potter – so it makes sense to start our Harry Potter walking tour of Oxford here.
The first Christ Church Harry Potter location is certainly the most famous – Christ Church Great Hall, which provided the inspiration for Hogwarts' dining hall.
We should be clear – contrary to popular belief, you won't find the actual Harry Potter dining hall in Oxford.
Scenes of the hall were actually filmed on a special set in the Warner Bros. studios but the set was created with close reference to photos and descriptions of Christ Church's hall.
Good enough, right?
PS: Did you know that Christ Church isn't actually the biggest dining hall in Oxford?

That title goes to Keble. Rumours have always flown that the producers wanted access to Keble's hall but were refused. Is it true? No idea. But we'll be controversial and say that Keble's hall is better* so we wouldn't be surprised.

*Runs and hides from the inevitable rain of fury from Christ Church's many adoring fans.
Christ Church College – Bodley Staircase
Whenever we hunt out filming locations, one thing we always love seeing is how films and TV programmes use the same spaces for different purposes.
We've seen it with the Game of Thrones filming locations in Dubrovnik, and Christ Church's Harry Potter filming locations are no different.
The Bodley staircase, leading up to Christ Church hall is one such location.
The top of the staircase is used in Harry Potter and the Philosopher's Stone when the new first years (including our favourite trio Harry, Ron and Hermione) walk up to Hogwarts for the first time and are welcomed by Professor McGonagall.
We also see the trio return to this spot at the end of the film after they've defeated Quirrell and Voldemort. You can see the staircase again when they are about to head home.
The bottom of the stairs are used in Harry Potter and the Chamber of Secrets as the spot where Harry and Ron are collared by Argus Filch after their escapade with the flying car, and also where Harry meets Tom Riddle.
Visiting Christ Church? Make time to visit the Christ Church Picture Gallery, which is one of Oxford's best museums.
Christ Church College Cloisters
We told you there are a lot of Christ Church Oxford Harry Potter sites!
This one is a little more tucked away than the others. Again, it's one from The Philosopher's Stone – the location where Hermione shows Harry that he was born to be a seeker – showing him all the trophies that James Potter won during his time in Hogwarts too.
Fee for entering Christ Church – £16
Bodleian Library – Divinity School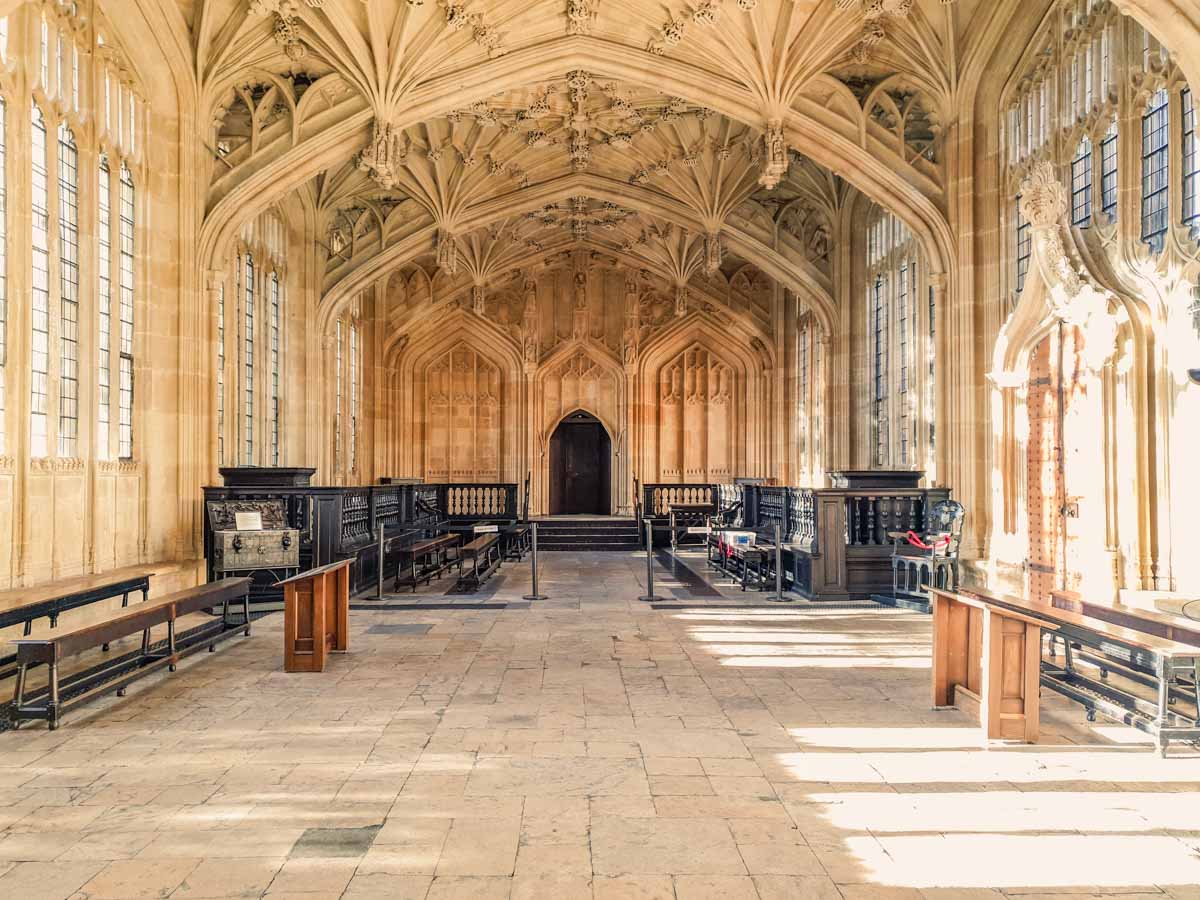 Next up on our Harry Potter tour of Oxford? The Bodleian Library's gorgeous Divinity School.
The Divinity School is another spot where Oxford University and Harry Potter meet. It was used as a filming location in Harry Potter and the Philosopher's Stone and in subsequent films as the Hogwarts Infirmary.
Remember that scene in the Philosopher's Stone when Harry is recovering after his first encounter with Voldemort and Dumbledore comes to visit him?
Or when Harry and Hermione use the time turner leaving poor Ron in the hospital bed in Harry Potter and the Prisoner of Azkaban?
No doubt you recognise it, the combination of the beautiful lierne vaulted ceiling and those windows isn't easily mistaken.
The Divinity School not only features as Hogwarts hospital, it makes an appearance in Harry Potter and the Goblet of Fire as the hall in which the students practice their Triwizard Tournament dances.
Who knew that all that awkwardness (Ron's face when he has to hold McGonagall's waist is just classic) took place in such a beautiful location?
Watch the video clip – Harry Potter Recovers in the Infirmary
Fee for entering the Divinity School £2.50
Bodleian Library – Duke Humfrey's Library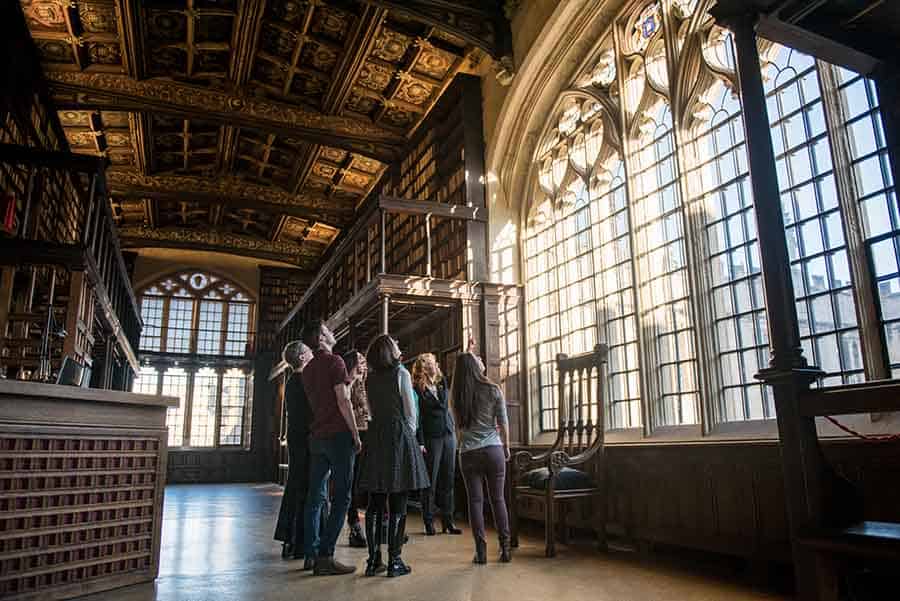 Duke Humfrey's Library also makes an appearance in Harry Potter and the Philosopher's Stone.
You know the scene where Harry is wearing the invisibility cloak and looking for information in the restricted section of Hogwarts Library? Yep, you guessed it – that's the Duke Humphrey's Library.
Fee for entering Duke Humfrey's Library: Can only be accessed on tour. Cost £6.
New College – Cloisters
Although we knew about quite a few of the Harry Potter filming locations in Oxford before our last trip, the New College cloisters were completely new to me.
New College itself could easily double up as Hogwarts, with its arched stone tunnels and imposing architecture. Don't let the name fool you – the "New" College actually dates back to the 14th century (ha! Only in Oxford).
What a discovery – the gloomily quiet cloisters are one of my new secret spots in Oxford. That's great – but where do they pop up in Harry Potter?
The New College Cloisters crop up in Harry Potter and the Goblet of Fire quite a few times. They were used for many of the corridor scenes within the film, including the one where Harry has to push through all the Gryffindor students wearing Potter stinks badges to go and speak to Cedric.
Read next: Cool Cocktail Bars in Oxford
New College – Courtyard & Tree
The New College Courtyard was also used as an Harry Potter Oxford location in Harry Potter and the Goblet of Fire.
Mad Eye Moody has popped up on the scene and transfigures Malfoy into a ferret and stuffs him down his buddy's trousers before he's told off by Professor McGonagall.
Funny isn't it, how you don't feel one shred of sympathy for Draco…
Watch the clip – Mad Eye Turns Draco into a Ferret (serves him right too)
Fee for entering New College – £8
Got More Time? Bonus Stop for Your Harry Potter Walk in Oxford
Fancy seeing a game of real-life quidditch? Well, check out the Oxford Universities Quidditch Club.
Mudbloods Muggles dash around the pitch (sadly, they haven't yet worked out how to fly but give them time) in a real-life version of the fantasy game.
We are so sad that this didn't exist while we were at uni – running around with a pretend broomstick and slamming balls through Quidditch hoops sounds is exactly the kind of thing we would have spent our time doing.
And there we are, our self-guided Harry Potter walk in Oxford. We hope you have even a smidge of the fun following the tour that we did researching and writing it.
Read More: One Day in Oxford
Harry Potter Tour Oxford: Practical Tips
Wear comfortable shoes. Oxford's cobbled streets might be beautiful but they can be killers on your feet. You don't want to be the person hobbling around halfway through the day.
The colleges have very specific hours when they are open to the public. We've included links to their websites but check before you go. As a rule, they're more likely to be open in the afternoon, so we recommend you start your Harry Potter walk around Oxford in the afternoon.
You do have to pay for entrance to the colleges and the Divinity School and Duke Humphrey's Library can only be accessed on a Bodleian tour – factor that into your costs.
Oxford is an easy day trip from London. If it's your first time visiting the city, we recommend staying at least one night as there's so much to explore.
While there is plenty of accommodation dotted around Oxford, you can actually stay in many Oxford University colleges outside of term-time for a real Oxford experience (without all the boring hard work).
🦉 Still not sure where to go? Take a guided Harry Potter tour.
Harry Potter Oxford Locations Map
Love this? Save and Share on Pinterest