The Best Luxury Hotels in Oxford
Insider Oxford is supported by readers like you. If you buy something through the links on the website, I may earn a small commission. Cheers! Learn More
Discover the best luxury hotels in Oxford with this insider's guide.
Oxford is known for its prestigious university, culture, history and architectural beauty. Little surprise then that it also boasts an array of high-end stays where you can bed down in comfort.
The city is home to a plethora of amazing hotel options – from 5-star luxury to your favourite boutique accommodation – there's something to suit even the most meticulous traveller.
If you're wondering where to stay in Oxford, we're here to help you discover some of the best luxury hotels the city has to offer.
Best Luxury Hotels in Oxford: At a Glance
Best Luxury Hotels in Oxford
VOCO – Oxford Spires, An IHG Hotel
Welcome to the parklands of Oxford Spires. You're spoilt for choice with these luxurious 4-star suites on this 40-acre property only a short distance away from the city centre.
With en-suite bathrooms and spacious living spaces, VOCO – Oxford Spires is a long-established favourite with guests who love the relaxed atmosphere and high-end touches.
Their colourful and contemporary accommodation is perfect for those who enjoy the added extras.
There are plenty of amenities too. You can choose to sweat it out at the gym or relax in the Willows Health Club and Spa.
Dine at Deacon's restaurant or order room service before choosing one of the many activities on offer.
Price Range: £££
Area: New Hinksey
Check Price and Availability
Hampton by Hilton Oxford
At the centre of Oxford, the Hampton by Hilton welcomes you with marbled floors leading to cosy carpeted bedroom suites.
Neutral tones with pops of purple and yellow decorate the walls of this establishment. With smaller rooms than most luxury hotels, the Hampton by Hilton makes up for it by providing excellent service, from the concierge desk and the valet parking to free Wi-Fi.
The Hampton by Hilton offers complimentary continental breakfast in the mornings with an on-site bar for after-dinner drinks.
Other amenities include a fitness centre and a business centre. With ergonomic chairs and desks in each room, this hotel is sure to fit on-the-go business people looking for a luxury space.
Price Range: ££
Area: Littlemore, Oxford
Check Price and Availability
Courtyard by Marriott Oxford
Situated in the heart of the city, this hotel is within a short distance of many noteworthy attractions. Alongside favourable amenities like air-conditioned rooms or concierge service, it's not hard to see why the Courtyard by Marriott is a keen favourite for those who enjoy lavish amenities.
Inside the rooms, decorators used modern interiors of neutral woods in the bedroom and tones of white in the bathroom. The rooms are fully kitted with a Nespresso machine in the kitchenette and complimentary Nirvae Botanicals luxury bathroom products.
As the winner of Tripadvisor's 2021 Traveler's choice, the hotel's Kitchen and Bar restaurant serves delicious traditional British classics. The breakfast buffet costs a bit extra but the layout is worth it.
If dining outside is a preferred option, the Rooftop Terrace allows guests to unwind and recharge.
Price Range: £££
Area: Oxford City Center
Check Price and Availability
Head of the River
This riverside pub and hotel in the heart of Oxford overlooks spectacular views of the River Isis and Folly Bridge. The Head of the River is also home to 20 uniquely decorated rooms, kitted with free toiletries, plush bathrobe and slippers.
Fall asleep to the noise of a flat-screen TV, and bed down on 1600 individual pocket spring mattresses. Regardless of your room choice, there are king-sized beds available for everyone, coupled with an en-suite bathroom to boot.
The pub restaurant offers a home-cooked style breakfast elevated with local produce. After a fabulous breakfast, there are tons of attractions to see in the surrounding region. The pub also offers a wide selection of real ales.
Price Range: £££
Area: Situated alongside the Thames River Banks in Oxford
Check Price and Availability
Mercure Oxford Hawkwell House Hotel
The Mercure Oxford Hawkwell House Hotel is a 19th-century manor house comprising three buildings. Ideally located for a British staycation. Just some 3km out from Oxford's city centre, this hotel is perfect for couples looking to get away for the weekend.
In each of their 77 bedrooms, there are luxurious amenities and facilities, kitted with rain showers and bathtubs, as well as Nespresso machines available in their Privilege rooms.
Enjoy a continental breakfast at the hotel's restaurant, Frank's at Hawkwell House, or explore the menu for lunch and dinner, offering locally inspired dishes.
An added touch is the conservatory var terrace that overlooks the gardens.
Price Range: ££
Area: Iffley Village, Oxford
Check Price and Availability
Chequers at Burcot
Just outside of the city centre, the Chequers at Burcot is a fantastic base for anyone looking to avoid the city hustle. Situated in the South of Oxfordshire, the village of Burcot is best known for suites adorned in rustic design elements.
Select a Deluxe Double room and indulge in a glass of prosecco on arrival, as well as room service, complimentary toiletries, and a relaxing rainfall showerhead.
With exposed brick and wooden exteriors, this accommodation also features an award-winning bar and gastropub. Chef-Owner Steven Sanderson keeps guests well-fed with locally-sourced ingredients and divine meals.
Price Range: ££
Area: Burcot, South Oxfordshire
Check Price and Availability
Malmaison Oxford
While the Malmaison Hotel was once used as a prison, it is currently well known for its opulence. This well-decorated hotel now serves as a great accommodation steeped in history.
Enjoy their stylish take on interior design with grey tones and splashes of colour. The Malmaison is home to a mix of modern and archaic, beautifully intertwined for your comfort.
The property has perfectly converted what used to be a prison dining room into a fine dining restaurant – the Chez Mal Brasserie. Feast on delicious meals inside or dine on the terrace (which was once the old prison Exercise Yard).
Make sure that you're booking your stay well in advance as this interesting and unique establishment books out fast.
Price Range: £££
Area: Oxford Castle, New Road, Oxford
Check Price and Availability
The Randolph Hotel
Picture old English decor, high arches, castle-like build, and lots of light. This is the Randolph Hotel. Steeped in culture and heritage, this is a landmark building designed to replicate the architecture and crests from Oxford University.
This 5-star establishment by Graduate Hotels is right at the heart of Oxford and offers its guests a range of wonderful amenities. With valet parking, daily cleaning services, and lavish spa treatments at the wellness centre, this is a true retreat. And it's pet-friendly.
An ode to British classics, this hotel houses The Alice Restaurant, where their unique dining options pay tribute to the traditional style.
Price Range: £££
Area: Beaumont Street, Oxford
Check Price and Availability
Old Parsonage Hotel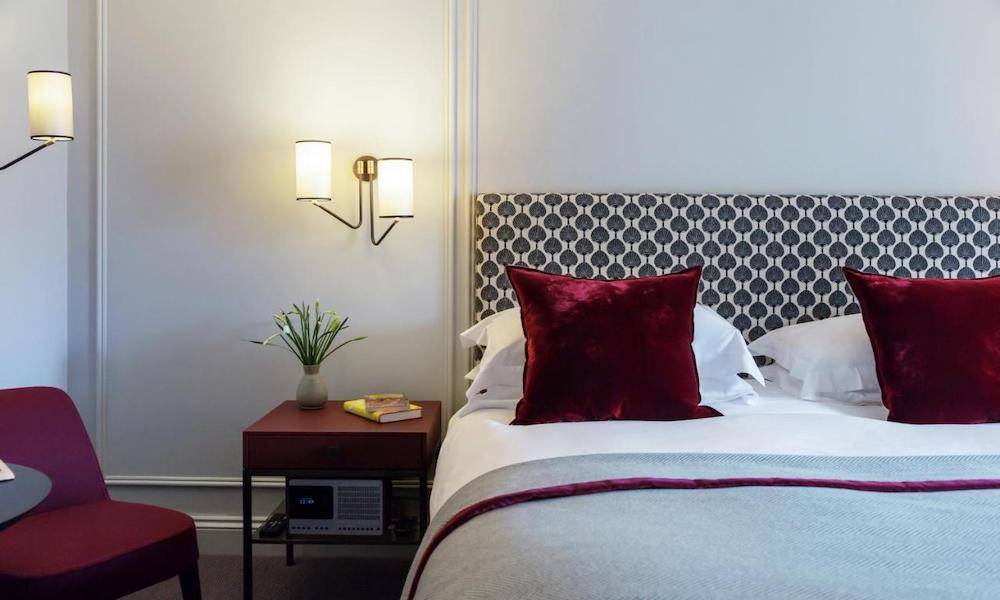 The Old Parsonage Hotel is where charm and character come to play. While it may be old, the Parsonage Hotel makes use of modern chic interiors to ensure that your experience is one of refined grandeur.
Each of the 35 bedrooms has handmade beds, featuring natural fabrics. The rooms also offer marble en suite bathrooms and a handful of paintings chosen from the owner's private collection.
The hotel library is an ideal place to relax, and the walled courtyard calls for traditional English afternoon tea. For dinner time, the Parsonage Grill offers the freshest produce displayed in innovative ways, with wholesome menus to exhibit their crisp ingredients.
Price Range: £££
Area: 5 minutes from Oxford City Center
Check Price and Availability
The Old Bank Hotel
As the sister site of the Old Parsonage, this hotel is just as glamorous and welcoming. While both hotels have their high levels of luxury in common, The Old Bank Hotel reflects a different side of Oxford.
Staying here offers access to the best views of the most popular landmarks. The Quod Restaurant and Bar offers the immense pleasure of a terrace overlooking St Mary's Church and the iconic Radcliffe Camera.
The onyx bar and Italian marble setting create the atmosphere for bartenders to create imaginative cocktails in a display of showmanship and flair.
They've got the accolades to prove their brilliance. This hotel was the 4th choice for Conde Nast Traveller's "Top Hotels in the UK in 2019". As well as making the Sunday Times' Ultimate 100 British Hotels in 2019.
The Old Bank Hotel offers you a clean break from reality while you explore the heart of Oxford at leisure.
Price Range: £££
Area: Oxford City Center
Check Price and Availability
Vanbrugh House
Sir John Vanbrugh designed this 18th-century building to replicate the style of the Blenheim Palace. With only 22 rooms, this hotel is intimate and the decor is full of character.
Walk into hardwood flooring and grey tones coupled with bright white accents. The Vanbrugh House Hotel features premium cotton sheets, rainfall showers and fluffy white robes.
The hotel itself has a ton of history for the kindred history buff while ensuring that there is so much more to do and see outside of these four walls.
Price Range: ££
Area: Oxford City Center
Check Price and Availability
George Street Hotel
The George Street Hotel offers premium accommodation with something for everyone. Whether you're on holiday, looking for a night away from the kids or searching for a perfect business retreat, this hotel has you covered.
The hotel provides air-conditioned rooms and en-suite bathrooms with a terrace overlooking attractions that are a one-minute walk away.
The best suite is the Superior room with a terrace. With L'occitane toiletries in the bathrooms, a reading light in the bedroom and smart TV as well. The rooms have Hypnos mattresses that provide top quality sleep support.
If you're looking for relatively cheap luxury hotels in Oxford, this is the perfect fit.
Price Range: ££
Area: Oxford City Center
Check Price and Availability
VOCO – Oxford Thames, an IHG Hotel
This amazing 4-star location suits any individual, with a swimming pool, spa and gym. The VOCO- Oxford Thames showcases oak beams, four-poster beds and balconies that hints at its 12th-century origins.
The hotel offers an indoor pool, spa treatment areas as well as a sauna and steam room. The Rover Room Restaurant serves 5-star quality meals for the end of the day dinners.
The VOCO – Oxford Thames is a magnificent countryside hideout that invites you in with warmth and charisma. Explore this bundle of luxury with tranquil rural surroundings and service that does not disappoint.
Afternoon tea and lunches are prime features at the on-site restaurant to explore the unique food options and tasty cocktails.
Price Range: ££
Area: Sandford-on-Thames, Oxford
Check Price and Availability
Mercure Oxford Eastgate Hotel
In Oxford's City Center, this 17th-century Hotel still holds to the original building's architecture. For a local and authentic experience in Oxford, the Mercure Oxford Eastgate Hotel is ideal.
Guests at this hotel can enjoy affordable luxury designed to appease your modern comforts. From a choice of Classic rooms to a Privilege option, the hotel provides food and beverage facilities, a working area and satellite TV.
The bright rooms have big windows that bring in natural light, tiled bathrooms for a chic finish and colourful couches add optimal comfort to the space. Each room has modern art and unique paintings in each room. This accommodation is perfectly suited for solo travellers, couples and even families.
The hotel has an on-site restaurant, The Keepers, which allows you to delve into the world of British and European cuisines. If you're looking for something innovative and a lovely romantic night out on the town with your significant other, this is the place to be.
Price Range: £££
Area: Off Oxford High Street and opposite Magdalen College
Check Price and Availability
Practical Tips for Booking Oxford's 5-Star Hotels
While the range of luxury hotels near Oxford is just as great as the list above, it's better to stay in the city centre as you're close to your favourite landmarks. Secondly, transportation between cities is a lot quicker to come by.
With so many things to do in Oxford, you'll want to book your accommodation closest to your favourite activities. It may also be best to book your accommodation well in advance.