11 Gorgeous Oxford Wedding Venues: Where to Get Hitched in the Historic City
Insider Oxford is supported by readers like you. If you buy something through the links on the website, I may earn a small commission. Cheers! Learn More
Looking for the best wedding venues in Oxford? Get ready to tie the knot at one of these gorgeous wedding venues in the city.
We think you'll agree that weddings are notoriously stressful. From picking the perfect dress to keeping both sides of the family happy (which is impossible, by the way), there are so many little pieces of the puzzle that could go so wrong and ruin the entire day.
Whilst we can't guarantee that granny won't have one too many glasses of bubbly and upset one of the bridesmaids, we can guarantee that these wedding venues are perfect for your big day.
Let's take a look at the best wedding venues Oxford boasts…
Stunning Oxford Wedding Venues for Your Big Day
The Bodleian Library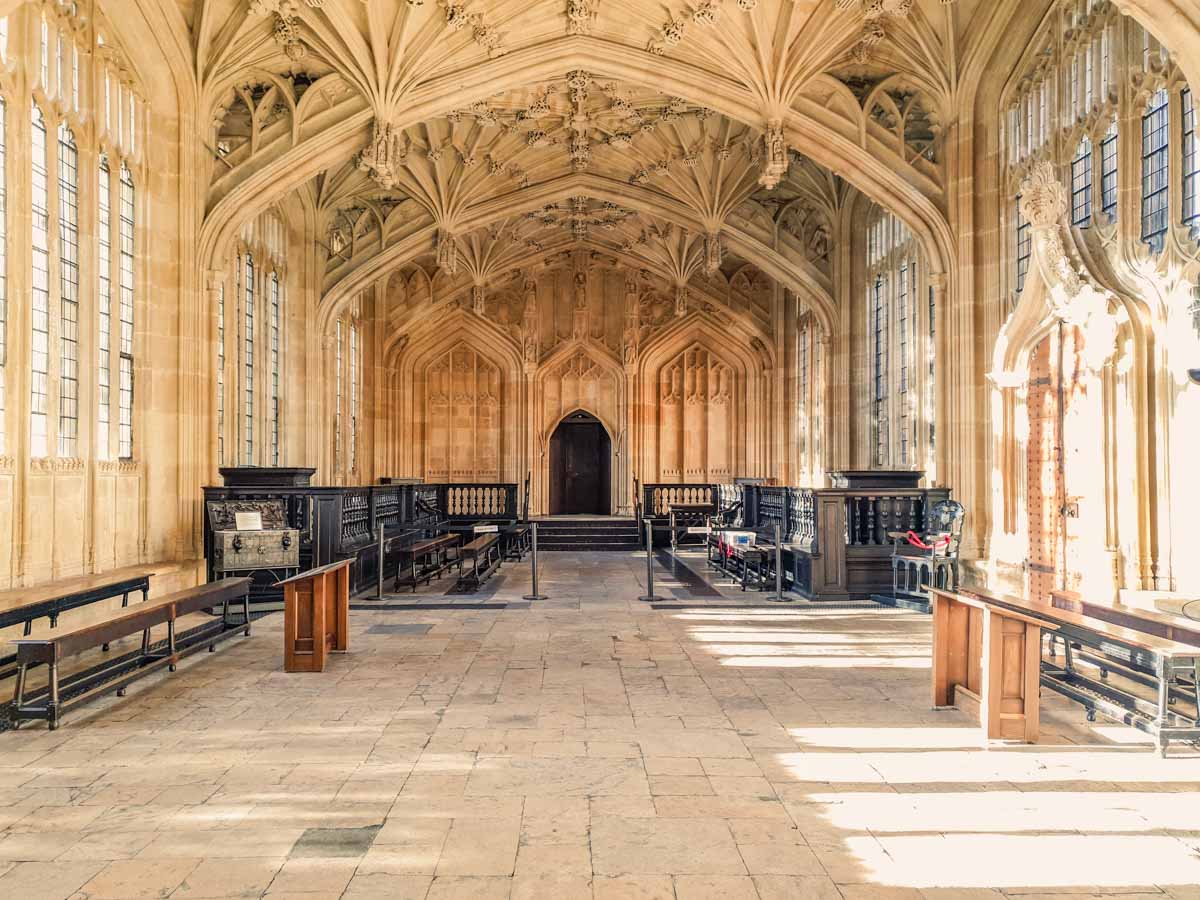 Who knew that one of Oxford's most iconic libraries housed a secret wedding venue? While you won't be able to party until the wee hours in the Bodleian Library itself, the Convocation House and Chancellor's Court can accommodate up to 100 guests in a historic setting.
After you've (hopefully) said "I Do", the party will be led towards the Divinity School for the dreamiest of wedding receptions. With its iconic ceilings and old-age charm, it'll be hard not to pretend you've just tied the knot in Hogwarts.
Price: POA
Rhodes House
Hands up if you've dreamed of having a fairytale wedding since you were little? Ours are firmly in the air right now. Rhodes House is a wedding venue in Oxford that can make all our sappiest dreams come true.
Huge bay windows, dramatic views, and oak tables await inside the wedding venue, providing the ultimate space for a traditional shindig. Though, pray for good weather and make your way to the colourful gardens for the most beautiful wedding pictures you could imagine.
The best part? Rhodes House can accommodate up to 250 guests, so there's no need for family feuds in the run up to the big day.
Note: Rhodes House is undergoing renovations until Spring 2023 and will have limited function space until this is complete. Bear this in mind during any venue viewings.
Price: POA
Cotswold Lodge Hotel
This four-star hotel sure knows how to pull out all the stops for a fabulous Oxford wedding.
They've got all the basics covered, and know just how to take the stress out of wedding planning – your on-hand wedding coordinator will take you through all the different options, handily laid out in a pick and mix style.
Whether you're happy with a simple affair, or want to go all out with an open bar and five course dinner, the Cotswold Lodge Hotel are happy to help with everything – even down to the exact shade of chairs you desire.
Price: Prices vary depending on the package but start at about £70 per person.
Headington Hill Hall
A wedding venue in Oxford that is part of the Brookes University School of Law, this venue is as regal as it is beautiful. The mansion dates back to 1817 and boasts gorgeously expansive grounds that are perfect for the big day.
Accommodating up to 80 guests, this is an ideal traditional venue for a more intimate wedding reception in Oxford. They offer in-house catering and there's an impressive dance floor for the party to let loose on after a delicious meal (and a glass of bubbly or five).
Price: POA
Oxford Castle & Prison
Fancy something a little bit different for your wedding reception? We thought so. Starting off married life in prison might not be everyone's cup of tea, but wait until you've seen the gorgeous crypt underneath Oxford Castle & Prison before you refuse.
Licensed between 7pm and 12am, the teeny-tiny candle-lit crypt is the most surreal spot to spend an intimate wedding reception, with up to 50 guests allowed. Dance between stone pillars and throw some absolutely criminal shapes.
And, if you need something a little bit larger, the upstairs reception room can host up to 100 people – which is more than enough for the vast majority of wedding parties.
Price: £305 per hour for upstairs and £142 per hour for the crypt, with entertainment and food upgrades available. This is one of the best cheap wedding venues Oxford boasts.
Yarnton Manor
This 17th-century manor house and surrounding gardens have been no stranger to royalty throughout history, so it's no wonder that it makes such a dreamy Oxford wedding venue today.
With huge oak tables and ornate windows letting light flood into the grand halls, Yarnton Manor looks every inch a traditional wedding reception venue – not to mention the abundance of dramatic photo backdrops dotted throughout the manor and gardens.
If you're still not convinced, you can browse their wedding inspo here. Swoon.
Price: POA
Springfield Lake
If you've got your heart set on an outdoor wedding in Oxford, look no further than Springfield Lake – an abundance of green space calling for a marquee and a good time.
Despite what you might think, you do actually have to book this space – or else anyone could just turn up and gatecrash your big day. They're currently booked up for the rest of 2022 and 2023, so get your skates on if you would like to get hitched in 2024.
Whereas other venues will often provide food, decorations, and DJs, Springfield Lake offers this venue to do with as you please. Once they have set the marquee up on Thursday, you're welcome to decorate and do as you wish.
Price: POA – full packages are also available.
Oxford Town Hall
There's no wedding venue in Oxford quite as iconic as the Town Hall. Practically oozing with history, this is one of the most popular places to get married in the city centre.
Whether you want to simply tie the knot here, or have the whole kit and kaboodle inside these iconic walls, this venue has all the ingredients for the perfect day.
Choose from five different rooms, each with their own charms, depending on the number of guests and individual requirements – though the Main Hall is the grandest of them all.
Price: POA
The Great Barn
Located on the fringes of Banbury, around 20 minutes from the city centre of Oxford, is The Great Barn – a magnificent venue for tying the knot.
The 18th-century barn has been converted into a fully-fledged venue, but still retains its original charm. The venue can accommodate up to 175 guests and is fully customisable – let your wedding planner know exactly what you would like and the rest will be taken care of for you.
Price: Dependent on season, but a weekend wedding in high season will set you back £5,950.
The Tythe Barn
When it comes to wedding venues near Oxford, none quite rival The Tythe Barn. Why? One word: Alpacas.
Let your wedding planner take care of the aesthetics. You want floral arrangements dripping from the ceiling? Tick. How about festoon lighting adorning the trees? You betcha. This rustic barn-type wedding venue boasts some of the dreamiest wedding photography we've ever seen – we're talking sepia-toned lovin', Jack Johnson style.
This is one of the most versatile wedding venues in Oxfordshire, and the fact that you can walk down the aisle accompanied by an Alpaca just makes it 10-times better.
Price: POA
The Sadler
Situated in the Oxford Science Park, The Sadler is a great option for those looking to pass on a traditional (read: boring) wedding venue, yet still want somewhere with the wow factor.
Contemporary and stylish, there's nothing old and fuddy-duddy about this venue. With a dance floor, discos, fireworks, and marquees all permitted, this is one of the very best wedding venues in Oxford.
The Sadler can accommodate wedding parties from 80 – 120, and serves up a cracking post-wedding brunch the morning after.
Price: POA, typically around £95 per guest.
Practical Tips for Booking Your Oxford Wedding
Before you fall head over heels in love with a location, double-check the capacity and availability directly with the venue.
Make sure to be clear about your budget and stick to it – small additions such as corkage fees and table decorations can really add up. Many places will not advertise a price on their site, and require a small consultation before they tell you how much it will cost.
Gorgeous Oxford Wedding Venues: Map