Discover the best of the city with these brilliant Oxford tours.
It's no secret that Oxford has it all. History, gorgeous architecture, filming locations and more – it's a treasure trove for those looking to explore.
Discover the city with these brilliant tours. Whether you opt to get geekily excited over a Harry Potter tour or opt for a more serene boat or cycling tour, you'll fall in love with the city as much as we have.
Oxford Tours
Harry Potter Walking Tour Including Christ Church
We suggest two different types of Harry Potter tours (because why stop at one?), They're also dependent on whether you have kids or you're on a solo trip.
The magical Harry Potter Walking Tour is led by students who guide you through the mediaeval buildings that inspired the famous story.
The tour takes around two hours, and not only will you learn about Oxford University, but you'll also be let into the Bodleian Library to get a close look at the hall used as the Hogwarts Infirmary.
You'll learn insider facts about how the film was made, hear trivia about the characters and you'll even get to roam the stunning hall of Christ Church which in turn was the biggest inspiration for the Hogwarts's Great Hall.
Harry Potter With Divinity School Entry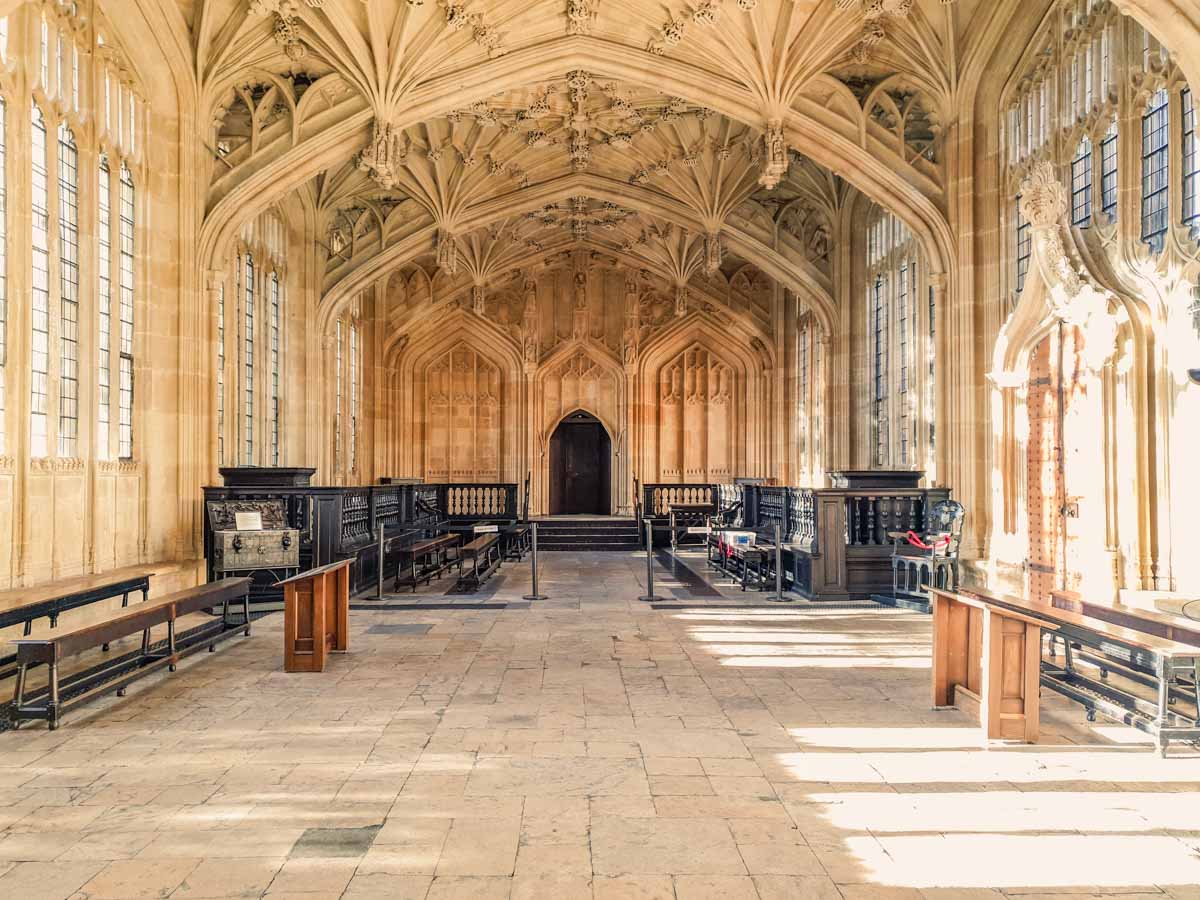 For the die-hard Harry Potter fans, this tour is all about fully submerging yourself through the eyes of Harry Potter. A 5-star tour dedicated to learning about the historic colleges and testing your Hogwarts understanding in a Potter-mania quiz.
Go brush up on your skills and get ready for the ultimate Harry Potter tour!
Free Walking Tour Oxford
For over 10 years, Oxford's Free Walking Tour has provided many locals and travellers one of the best tours in Oxford.
This tour is all about keeping things fun and interesting, and the guides pride themselves on keeping it as entertaining as possible so you don't fall asleep! History is not boring and they want you to feel their same passion for Oxford's big names.
Oxford City & Countryside Cycling Tour
Why stop just cycling around the city when you can cycle through the countryside on the same tour?
You'll need to save up a bit more time for this one, it runs between 3 – 4.5 hours.
Instead of simply walking through the streets of Oxford, why don't you escape the city crowds and get on a bike through the picturesque countryside?
By far the best way to see the town is by bicycle, Oxford isn't the most car-friendly place. Enjoy a leisurely ride through villages with traditional thatched cottages or see inside an early medieval church, you can even take a break on an optional garden pub spot! (We highly recommend the latter).
The outskirts of Oxford are so beautiful, this is a tour you're not going to want to miss. Enjoy cycling down the Thames with the wind in your hair and not a care in the world.
Oxford Boat Tour: Afternoon Tea Sight Sightseeing River Cruise
Does it get any more English?
A stunning afternoon cruise that sails down from Folly Bridge through the Thames. And on top of that, treat yourself to an indulgent (scones and all) traditional English tea.
This tour takes around 1.5 hours and sadly doesn't include any other drinks but tea. So come prepared and make sure you pack your sun cream if it's a hot day!
Oxford Tour: Private C.S Lewis & J.R.R Tolkien Walking Tour
We're really nerding out on this one. For C.S Lewis fans (like us), this is pretty huge.
Discover the inspirations behind C.S Lewis and J.R.R Tolkien on an incredibly walking tour through Magdalen College and J.R.R Tolkien's Exeter College (note that this is a slightly more intellectual tour, aimed at adults only.)
You'll even be able to visit St Mary's University Church where Newman and C.S Lewis preached and explore Christian history in a way you've never done before.
You'll visit where the genius' worked, hung out and quite literally walk in the footsteps and C.S Lewis and his friends along Addison's path where they strolled around discussing their ideas.
And yes, there is an optional pub stop on this one too! (We try.)
The duration of the private Oxford walking tour will last around 2 hours.
Discover the Cotswolds with a tour from Oxford
Even if you're in Oxford for a couple of days, the Cotswolds tour is a definite must. Not only is the tour led by a local guide, they'll pick you right up from where you're staying or wherever you are in Oxford.
You can easily cover the best places in a day and the day will be personalised to you. What you want to see, what you want to feel and how much exploring you want to do!
These tour guides don't believe in structure, they believe in keeping you happy and doing what you want to do.
Fancy a quick pint at the pub? Done. Want to skip a spot? No problem. Fancy stopping to take some pictures and walk around? You take control.
Oxford City Sightseeing Tour By Bus
Does it get much more British than this? Whether your British through to your bones or just here on holiday, why wouldn't you get on a big red bus and visit Oxford?
With audio commentary in multiple languages and regular tours departing every 10 minutes, this one is a no brainer. Even better, there's no pre-booking! Just buy your ticket on the day (Although if you like to be organised, of course you can still buy your ticket on the website below).
PS. Your City Sightseeing Oxford Ticket also lets you tuck into some special discounts around town to other local attractions.
Philip Pullman's Oxford Walking Tour
See first-hand the magical places that inspired Philip Pullman on a special tour endorsed by Philip himself!
Not only will you learn more about "The Book of Dust" series, you'll be able to immerse yourself in the key locations from La Bella Sauvage and Amber Spyglass books.
Definitely wear comfortable shoes for this one and be prepared, this tour will go ahead rain or shine.
Oxford Sightseeing Tours: Practical Tips
As mentioned before, comfortable shoes are key. Whatever you're doing, unless you're sitting on a bus all day or drinking tea along the river, you're going to be on your feet and we hate the idea of you regretting your footwear.
Plan ahead as much as possible! (We've done the work for you on this one.)
You can't do it all in a day, pick your favourites and go back twice!
Best Tours in Oxford: Read Next