London to Oxford: How to Plan Your Trip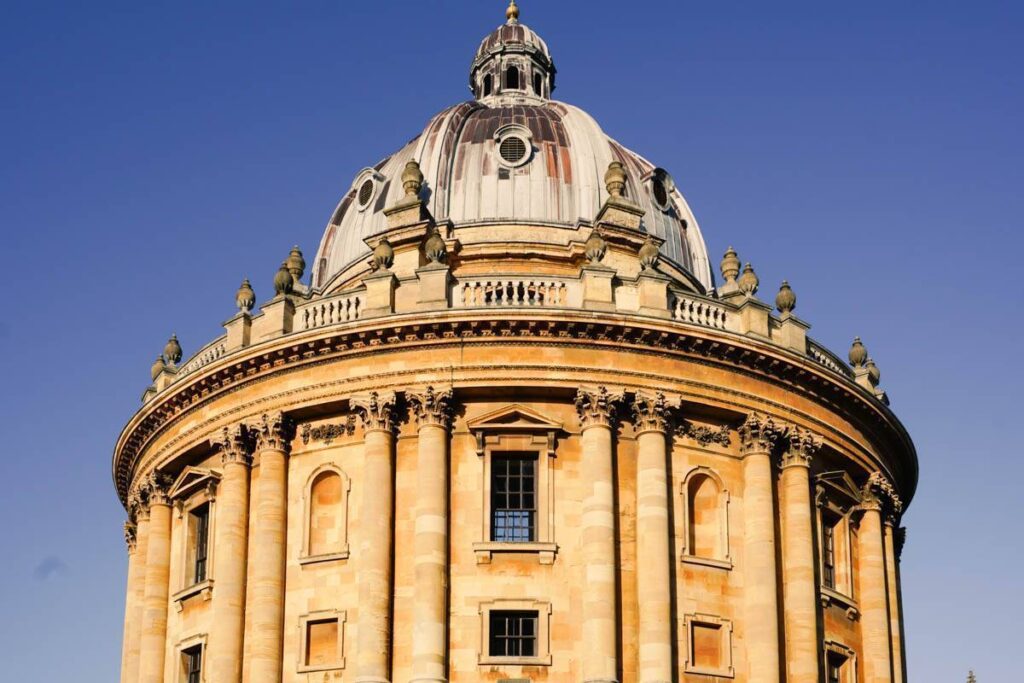 Insider Oxford is supported by readers like you. If you buy something through the links on the website, I may earn a small commission. Cheers! Learn More
Heading from London to Oxford? Dreamy spires, brilliant boozers, and a whole lotta history: Oxford makes for the perfect getaway.
If you're coming from afar, getting to Oxford can seem a little tricky. Navigating UK transport is confusing at best… and hellish at worst.
Fear not – we've written this handy guide to help you out, covering everything from different transportation options for getting from London to Oxford to best day trips and attractions you need to scope out when you're there.
The Best Ways to Travel from London to Oxford
Day Trips to Oxford from London
Here at Insider's Oxford, we absolutely love a self-guided trip. You can do exactly what you want, when you want, without judgement.
That said sometimes, it's nice to let someone else take the wheel and show you all the hotspots and, more importantly, make the travel arrangements.
This is where day trips come in – no need to plan, just turn up and let a stranger do all the hard work. Luckily for you, there are plenty of day trips from London to Oxford, and we've rounded up the best…
London to Oxford Day Trip and Tour
This tour featuring a full day in Oxford and Cambridge is one of our favourites. Starting in London (Earl's Court, to be exact) you'll get to spend the day exploring both historic places by foot.
Travel taken care of and the chance to see two beautiful cities in one day? Bargain.
Harry Potter-Themed Tour from London to Oxford
If you're a little bit of a Potterhead (totally guilty), you might want to check out this option that combines the Harry Potter Studio Tour in Watford with a guided walking tour of Oxford's historical centre. Bring your wands and prepare for a magical day filled with exploration!
The Cotswolds and Oxford from London
Or if pretty scenery is your thing, you will lose your shizz on this Oxford and Cotswold Village Tour. The tour welcomes small groups only: you're travelling in a Mercedes mini coach and you'll be able to ask the guide as many questions as you want without it feeling totes awkward.
Also, you'll get to nip into some of Oxford's most famous buildings including the Ashmolean Museum and Christ Church College – another win.
Trains from London to Oxford
Taking a train between London and Oxford is often the most simple (and quickest) way to travel.
Direct trains from London to Oxford take around 1 hour and depart from London Paddington.
Ticket prices vary, so we recommend using Trainline and planning your trip far in advance for the cheapest deals.
If you're organised, it's not that rare to find a return ticket for around £15. Leaving it until the day of your trip can result in prices soaring to £40. Yikes.
Buses from London to Oxford
One of the easiest and cheapest ways to travel between London and Oxford is on the Oxford Tube. Coaches run around every 15 minutes between the two cities, with a return fare costing just £17.
You can get the bus from Buckingham Palace Road in the capital and Gloucester Green Bus Station in Oxford. It's a little bit slower – the journey takes around 2 hours – though the seats are comfy and the on-board wifi is decent.
London to Oxford by Car
Driving from London to Oxford is another option and takes around 90 mins. Driving can be beneficial depending on where you're coming from, though if it means you have to drive through central London or into central Oxford we would urge you to avoid it if possible.
Most hotels in Oxford will have somewhere for you to park your car, but if they don't, here's a few great options in and around the city centre – but you're strongly encouraged to use the Park and Rides at Peartree, Redbridge, Thornhill or Seacourt:
Westgate Oxford Car Park – Thames St, Oxford OX1 1TS
Oxford Parking – 2 Broad St, Oxford OX1 3BS
St Giles Car Park – St Giles', Oxford OX1 3JS
Worcester Street Car Park – Worcester Street, Oxford OX1 2BQ
Getting to Oxford from London Airports
Landing at a London airport? You've got a couple of ways to get into Oxford.
Technically, the capital has 6 airports, but the vast majority of flights land at either Heathrow, Gatwick, Stansted, or Luton.
If you're arriving at Heathrow or Gatwick airport, taking The Airline bus is the easiest method. A fixed return costs just £30 from the airport and you'll be collected right from your terminal at Gatwick (or the central bus station in Heathrow) and delivered straight to Gloucester Green Bus Station in the city centre of Oxford.
Using National Express is another great option, whichever airport you land at. The coaches are spacious and have wifi, but the prices are very reasonable. For example, you can get from Luton Airport to Oxford for just £17 (with a quick change at Heathrow).
However you opt to travel into Oxford, avoid a taxi at all costs or you'll end up paying northwards of £100. Been there, done that, already made that mistake for you.
The only exception to this rule is if you're with a larger group – when the cost might be justified.
In any case, booking in advance will guarantee the best rates.
Attractions to Visit on a Trip from London to Oxford
Christ Church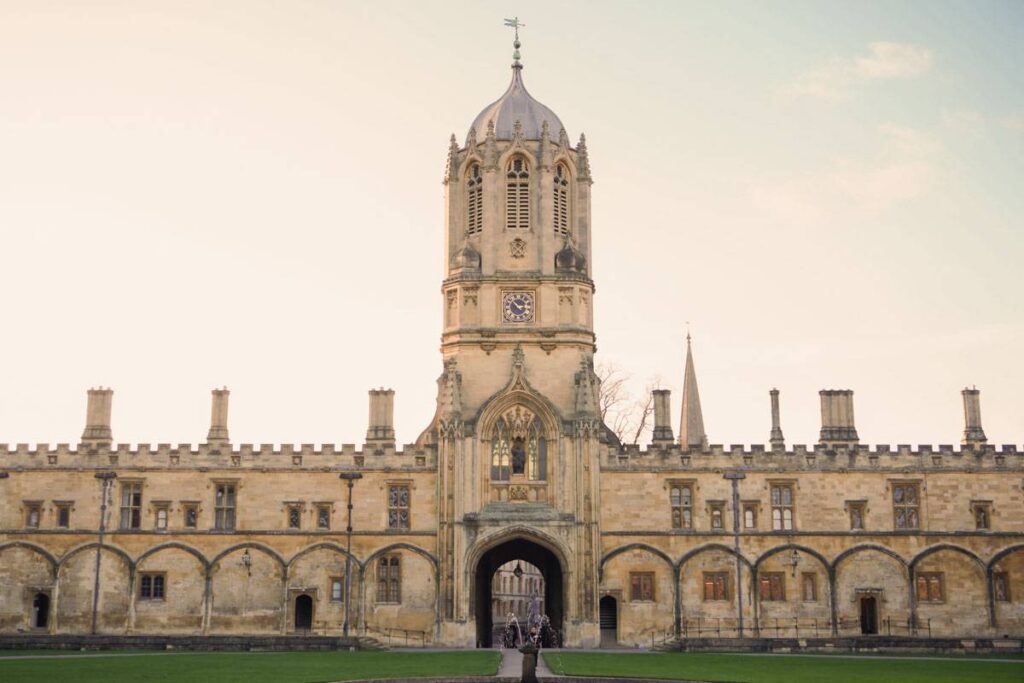 Oxford is bursting with historic colleges, but none are as impressive as Christ Church. Not only is this one of the most beautiful Oxford colleges, but the building's literary ties are unmatched.
How do you fancy walking in the footsteps of arguably the world's most famous wizard? That's right – Harry Potter himself has walked the halls at Christ Church when it was used for filming in many of the movies (you can follow a self-guided tour here).
Author Lewis Carroll studied at Christ Church and if you wander out towards the pretty meadow behind the building you'll be able to catch a glimpse of the glorious sights that influenced Alice in Wonderland.
While you're out there, take a peek at the rose garden and the longhorn cattle that graze nearby.
Bodleian Library
Fellow book nerds won't want to miss the breathtaking Bodleian Library.
Step inside the building and you'll be greeted by intricate vaulted ceilings and a HUGE book collection.This is the main research library for Oxford University and is one of the oldest libraries in Europe.
The best part? It's totally free to enter.
Radcliffe Square
Whilst you're at Bodleian Library, make sure to check out the rest of Radcliffe Square. This is one of the most popular areas of the city and it's easy to see why.
Named after John Radcliffe after he left large amounts of land to Oxford University, Radcliffe Square boasts cobblestone and grass – and the iconic Radcliffe Camera as its focal point.
Covered Market
Make sure to plan a trip to Oxford's famed Covered Market in the afternoon. Come hungry – you'll want to eat everything.
The market first opened in 1774 and it's past is still recognisable despite various add-ons over the years, including the 19th-century iron bars that front the shops – which were originally used to hang meat.
Today the market is filled with independent shops and eateries, from hipster bakeries to more traditional food merchants. We LOVE the hearty goodness at Pieminister and the flavourful dishes at Sasi's Thai.
Oh, and make sure you grab yourself a Ben's Cookie for laters, trust us.
River Isis
You've probably heard of the River Thames, but have you heard of the River Isis? Well, they're basically the same thing.
Oxford locals refer to this big river as Isis rather than its more famous name, and whilst wandering along the South Bank is heaps of fun, getting out of the capital to see nature undisturbed just can't be beaten.
If you're feeling brave, opt for punting – a classic Oxford pastime – to really experience the countryside… or you could also meander along on one of these beautiful walks near the river.
Ashmolean Museum
When it comes to museums, Oxford rivals the capital with its selection. The Ashmolean, though, is easily the most popular.
Situated on the corner of St Giles Street, this museum is divided up into regions and walks you through the history of international cultures.
Make sure to pop into the cafe after you've explored – it's one of the best in Oxford.
Botanic Gardens
Sadly overlooked in favour of Kew, Oxford has long boasted its own blooming beautiful Botanical Gardens.
Hiding 400 years of history within its walls, the Oxford Botanic Gardens are the oldest in the world. That alone makes them worth a visit, but the interesting exhibitions and not-so-subtle nods to Oxford literature throughout are even more impressive.
Today, the garden is home to a whopping 5,000 plant species over the 4-and-a-half acre plot – prepare to get some rather stellar shots for the 'gram.