17 Fascinating Facts About Oxford
Insider Oxford is supported by readers like you. If you buy something through the links on the website, I may earn a small commission. Cheers! Learn More
Oxford has a long history that largely revolves around Oxford University – but there's a little more to Oxford than you may think.
From tortoise wars and famous actors to iconic filming locations and a very fun pastime that's been around in Oxford since the 1800's, there's lots to learn about Oxford.
Buckle up, we're about to take you on a ride through some of the most fun, sometimes scandalous, and always interesting facts about Oxford.
Ready?
Interesting Facts About Oxford
How Did Oxford Get Its Name?
Oxford's name actually has a lot to do with the Cherwell and River Thames, but why do you ask? Well, the name Oxford comes from the old Saxon term Oxenaforda– meaning Ford of the Oxen.
Now back to the rivers, Fords are parts of the river that are shallower than the rest, and allow the possibility to cross. In 900 AD Oxen used to cross the river in Oxford and settlements began to populate the area– and the rest is history.
How Many People Live In Oxford?
Oxford has an ever-growing population, but currently it is estimated to be about 162,000. In fact, it's grown 0.12 percent since 2021– there must be something in the water.
How Old Is Oxford?
Oxford was founded in the 9th Century and is estimated to be about 1100 years old. We know this because Oxford is first mentioned in 911 when the Anglo-Saxon Chronicle (a bit like a diary) mentions that King Edward would receive Oxford and all the land belonging to it.
What Is Oxford Famous For?
It goes without saying Oxford University (obviously) but there's a little more to this affluent city.
Oxford influenced the English Language—and that's where the Oxford Dictionary comes from. The Oxford Dictionary first began documenting the English language in 1857. It was so thorough that it took four years to get from a to ant.
It was a slow process, but it has stood the test of time, and it's been published by The Oxford University Press for over 100 years. It's been used in UK schools ever since, and it's one of the reasons that Oxford became so famous.
Punting is Very Popular
Punting is one of Oxford's favourite pastimes. This dates back to the 1800s when flat-bottomed boats were used for fishing and carrying cargo.
In the 1860s, people began using punt boats for fun, and today you can too! Punting up the River Cherwell is idyllic and extremely fun.
Next time you're in Oxford, you should totally rent a punt boat!
Blackwell's Bookstore Began in Oxford
The very famous bookstore chain Blackwell's Bookstore began in Oxford. You can still visit its flagship store today.
It's home to the world's largest store devoted entirely to book sales. And with three miles of shelving, there are literally books for miles!
How Old Is Oxford University?
It turns out that Oxford University is the oldest university in the English-speaking world. It's estimated to be about 926 years old and was built in 1096. So, that's about nine centuries, to give you some perspective…
How Many Students Attend Oxford University?
There are roughly 25,000 students at Oxford University from over 160 countries.
This is a mix between undergraduate students and graduate students, and contrary to popular belief, there are currently more women at Oxford than men– a triumphant achievement for women and higher education as a whole.
The University Used to Look Very Different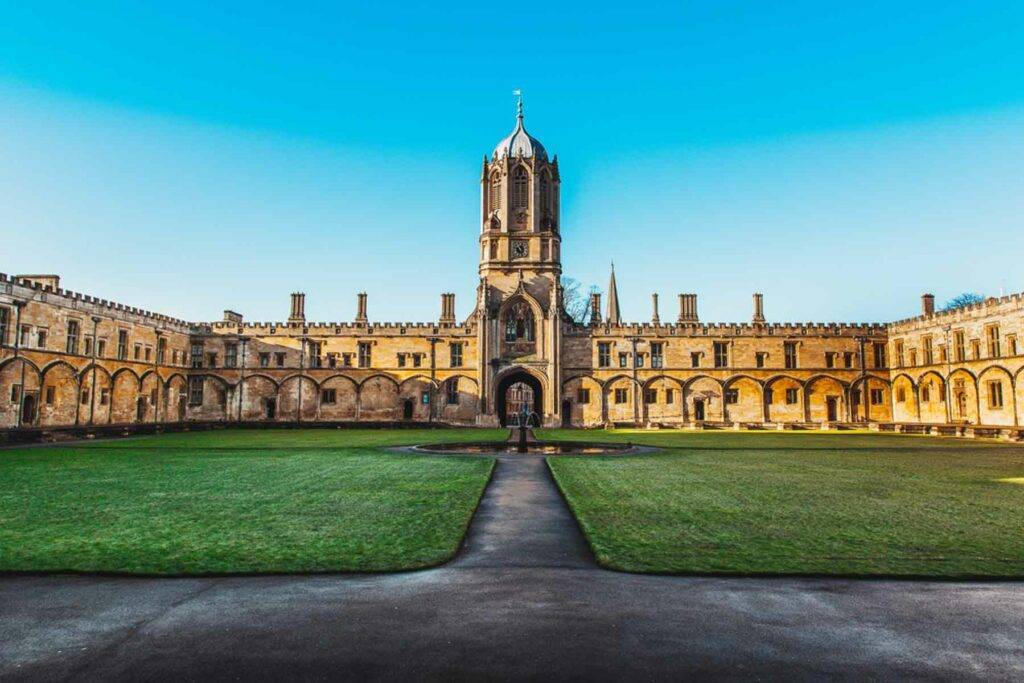 Did you know that women were banned from Oxford University until 1878? They were eventually allowed to come and study at the university but were not allowed to be awarded degrees until 1920. Boo.
That's not all – up until 200 years ago, the only subject you could study at the University of Oxford was religion. Luckily, the curriculum has since expanded to all subjects.
Oxford may be the second oldest university in the world, but there are a lot more juicy facts than that about this university. It turns out that it has a scandalous past.
It's believed that more students began attending in 1167. This was because Henry II had a turbulent relationship with France and banned English people from attending the University of Paris.
The University thrived as the only university in the UK… until protests forced scholars to leave and found Cambridge. But Oxford is way better… I'm not biased or anything.
Oxford University's Alumni List is Pretty Cool
Oxford University educated many of the greats. It's quite a long and impressive list, too, some of which include Oscar Wilde, Percy Shelly, Lewis Carrol, T.S Elliot – and the list really does go on.
Oxford Was (Pretty Much) Unscathed During World War II
Oxford avoided being bombed during World War II, largely this was because Hitler wanted Oxford to be the capital of England after defeating it.
Fun Facts About Oxford
The Natural History Museum Boasts a Famous Dodo
The Museum of Natural History has the most complete specimens of the dodo (a flightless bird). The bird went extinct in the 17th Century, and this museum has the mummified bones on display.
Oxford's Literary Links are Impressive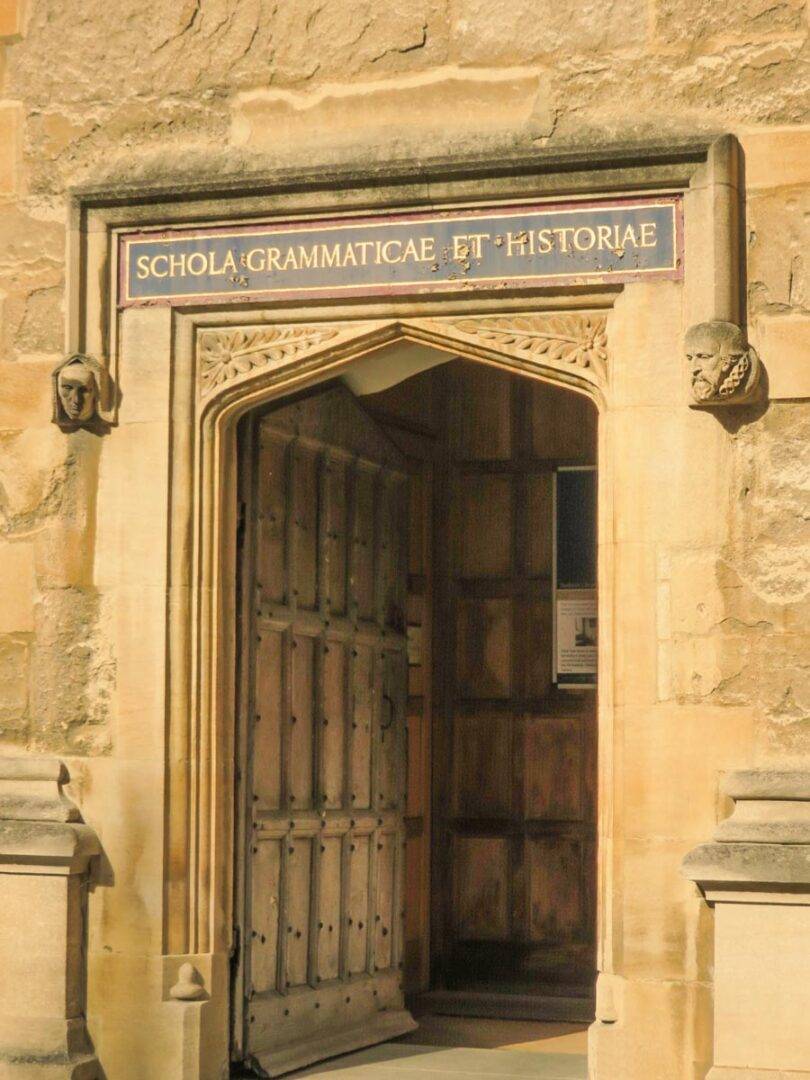 Did you know that Oxford has more published authors per soiree mile than anywhere else in the UK? Oxford has been home to many famous authors, including JRR Tolkien, Lewis Carroll, CS Lewis and Mark Haddon.
Lewis Carroll, the author of Alice In Wonderland, once told the beginnings of the story to Dean Henry Liddlle's daughters in 1862, and one of them was named Alice.
Oxford is also Tom Riddled with Harry Potter remnants, including Emma Watson, who played Hermione. Oxford is, in fact, her hometown, where she studied at Oxford Dragon and Headington School.
Oxford Served the First Cups of Coffee
Oxford has the first-ever coffee house in England, the first cups of coffee were served in The Grand Cafe.
Tortoise Wars Are a Real Thing
Yes, you heard that right. It dates all the way back to 1555 when Trinity college was founded, one of Balliol College's biggest rivals.
Every college has a tortoise because why not? Every May, the colleges come together and hold a tortoise race. And that is not something to miss!
A circle of lettuce, about 8 metres wide, is placed on the ground, and spectators wait for the first tortoise to get out of the circle. The first one to reach the lettuce line wins the race!
Balliol College holds the record at 4 hours back in 2004. But, on this triumphant day, Balliol College took the tortoise out for a celebratory spin and lost him. To this day, the Balliol believe Trinity College stole him.. a tortoise scandal!
Oxford Castle Has a Long History
Oxford Castle has a colourful past. It was key in defending the city from Saxon invaders and played an important role during the Anarchy. It was the base of Empress Matilda's campaign during 1141 to 1142.
In the 13th Century a stone keep was built inside the castle walls, replacing its wooden structure to help with defence during the Barons war. The castle was besieged for a second time during the Baron's war and its defences were strengthened once more with stone structures, a moated barbican.
After the war the castle was no longer used as a military base and fell into a state of despair. Repairs would have cost around £800 (a lot of money in those times), so the castle resumed other purposes.
It served as both a court and prison until the 16th Century. It housed the Assizes court until the plague broke out in 1577.
(Some of) Harry Potter was Filmed in Oxford
The best fact about Oxford University is that it was used as a filming location for Harry Potter. Christ Church Staircase can be seen in multiple Harry Potter films and you can actually visit this location too.
Other wizarding locations include New College Cloisters Courtyard and Christ Church Cloisters– looks like you never needed your Hogwarts acceptance letter after all.