8 Unmissable Oxford Bookshops You Need to Visit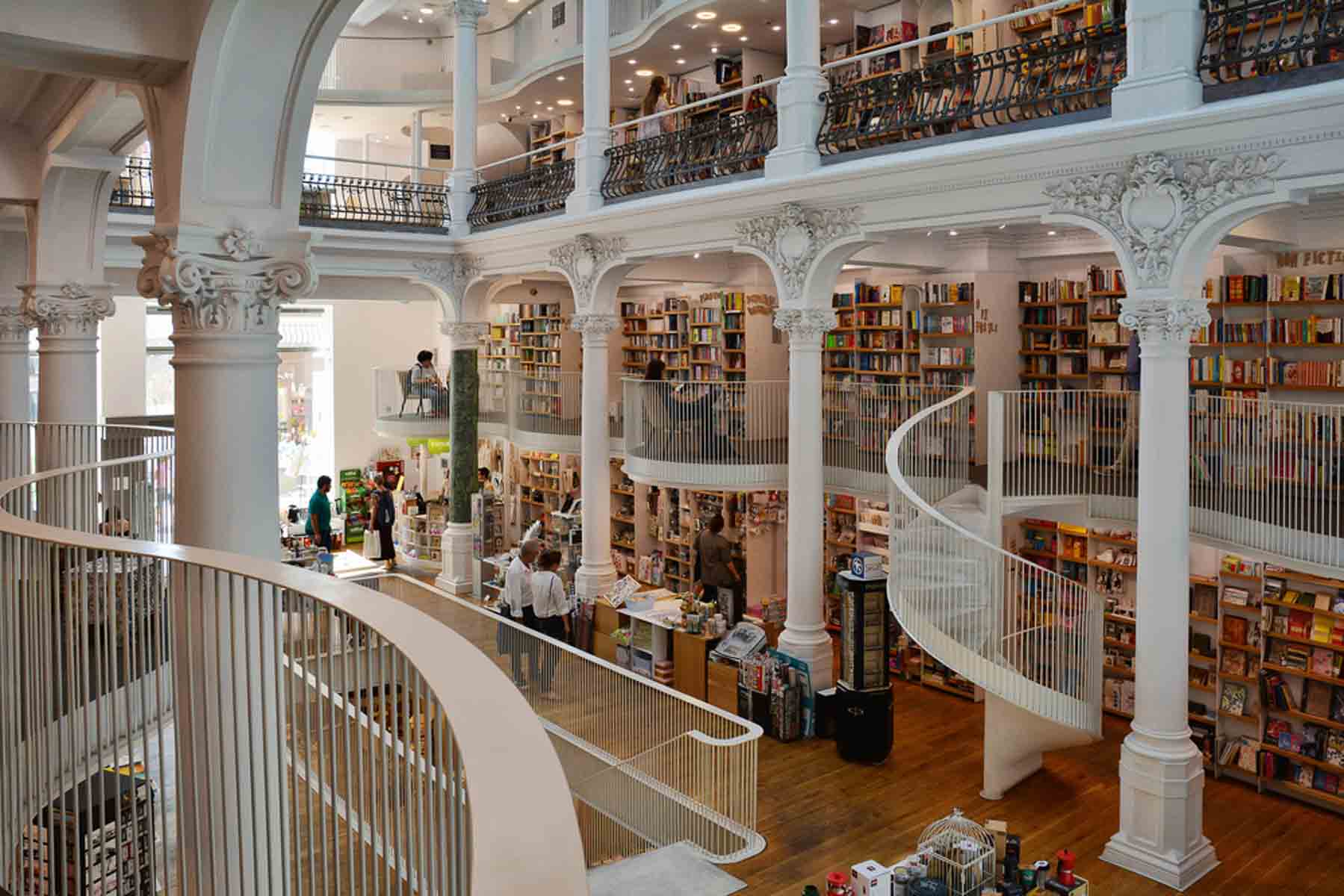 Insider Oxford is supported by readers like you. If you buy something through the links on the website, I may earn a small commission. Cheers! Learn More
Looking for the best bookshops in Oxford? The city has plenty – head to one of these gorgeous literary havens and go wild.
I'm totally guilty of having a TBR pile longer than our arms and bookshelves that are heaving, yet when I visit Oxford's charming bookshops, I can't quite help but make a purchase or two.
It has to be said, a lot of amazing independent bookshops in Oxford have closed down post-Covid, so it's more important than ever to support the remaining few.
These are the best places to shop for books in Oxford.
Best Bookshops in Oxford
Blackwell's Bookshop
Whether you're into classics or contemporary fiction, or perhaps need to pick up a textbook or two, Blackwell's will certainly have what you're looking for.
If you're looking to save some cash (and shop sustainably), chec out the main Blackwell's bookshop on Broad Street which also has a large second-hand book section. All of which are in good condition.
And if you fancy nerding out, underneath the main shop sits the Norrington Room which was built in 1966 and is home to the largest single room selling books in the world. Blackwell's is a must for anyone on their search for the best bookshop in Oxford.
The Last Bookshop
The Last Bookshop has to be one of our favourites in Oxford (and potentially broader – just don't tell The Golden Hare in Edinburgh). Although it's slightly out of the city centre, it's most definitely worth the trip to Jericho.
You're unlikely to find the latest Sally Rooney novel here, though you can expect a range of classics and niche books at this adorable Oxford bookshop. The low prices make it even better – I'm talking two books for £5!
You can even sit outside the front of the shop in the summer months with a coffee and your brand-new novel in hand.
Arcadia
A trip to the most magical place on earth… Arcadia bookshop.
Stripped back white and green overhanging on the shop's front, you'll feel like you've stepped into a different era.
Shelves and shelves of the most beautiful books that literature has to offer, as well as plenty of quirky stationery and wall art. The vintage and second-hand books displayed on the outside shelves are the key feature of this bookstore and will draw anyone in.
Conveniently, Arcadia is also very well located in the centre of Oxford which makes your trip even easier.
St Philip's Books
Another favourite Oxford bookshop of ours and a must for any Alice in Wonderland as it's right next to Alice's Shop.
This tiny spot is a little bit of a tight squeeze, though this is one of the best Oxford bookshops for rare books. Ask anyone working there if you're after a particular book and they'll be sure to help you out.
After all, half the fun of a bookshop is speaking to like-minded bookworms.
The Book Stop
The Book Stop is a relatively new Oxford haunt, though it is a fantastic addition to the Oxford book scene as it's making books more accessible to people – with most of their books only costing a few pounds.
The slight downside is that compared to the other bookshops, it doesn't have quite the same selection. However, if you're into your humanities, you'll find exactly what you're looking for.
A wonderful little gem of a cheap bookstore in Oxford.
Oxfam Bookshop
Oxford proudly boasts the very first Oxfam bookshop, which first opened in 1987.
Look no further if you're after second-hand books in Oxford. Whatever the topic, Oxfam Bookshop will have you covered and with its two stories, you'll have plenty of space to roam around and find what your heart desires.
Although this is a second-hand book store, don't be surprised if you see a couple of pricier options – it's known to have some incredibly rare books. In fact, the shop sold a very rare Graham Greene novel for £15,000 in 2008!
It's a seriously glorious bookshop and one you cannot miss out on your trip to Oxford.
Daunt Books in Summertown
Summertown is a gorgeous little enclave just outside of the city centre and well worth a visit for Daunt Books alone. From poetry to politics or photography, this bookstore has it all.
A branch of the famous Daunt bookshop in London, it's a lovely place with great collections. From recent bestsellers to older books and even children's books, you'll find something for the whole family.
Summertown is also a lovely place to wander around, maybe pop into one of the cafes and get the most out of your trip to Oxford.
Waterstones Oxford
Okay, okay, okay… I know it's not an independent bookshop, but the Waterstones in Oxford is absolutely mind-blowing on many levels.
Firstly, the location. Right on the corner of Cornmarket and Broad Street in a stunning grade II listed building lives the wonderful… Waterstones. Five floors of books (plus a lovely little cafe!)
The large window displays will be enough to lure you in anyway, but trust me there's plenty more and a whole load of books.
Practical Tips for Exploring Oxford's Bookshops
Check out the second-hand book shops Oxford boasts first – I've found gems in them (I will never quite get over the time I found a second edition Dracula for 50p!).
If you only have time to explore one bookshop, make it Blackwell's. Or Daunt if you're after a brand-new release.
Oxford Bookshops: Map