Punting in Oxford: An Insider's Guide
Insider Oxford is supported by readers like you. If you buy something through the links on the website, I may earn a small commission. Cheers! Learn More
With enchanting scenic views and winding ancient waterways, punting in Oxford has long been a tradition of locals and tourists alike.
But… What exactly is punting?
Have no fear – we're here to give you the 101 on Oxford river punting.
It's pretty simple really: punts are a flat-bottomed boat and punting is the act of propelling the boat along the water using a long stick to push the bottom of the river. Easy right?
It's thought that Oxford's favourite pastime began around 1860, and, today, it's an Oxford University tradition to go punting after graduation – or pretty much any other time come to think of it.
If you wander next to the River Thames on a warm day, you'll notice lots of people have taken to the water to give punting a go. With little experience needed, it's a great way to access unparalleled views of the historic city and surrounding countryside (not to mention the LOL's it provides).
Whether you'd prefer a relaxing guided tour of the city, or feel brave enough to venture onto the waterway to take a punt (sorry!) by yourself, we've got the low-down for you on this quintessential Oxford tradition.
Options for Punting in Oxford
Tour including a punt
Punting Trip With a Walking Tour
Embark on this punting trip with an optional walking tour and experience Oxford's interesting history from a different perspective.
Starting at £100 per person, your guide will spill all the secrets surrounding Oxford University, as well as give you the lowdown on the city as you float along the waterways and then meander through the cobbled streets.
Meet your guide and wander along Broad Street towards the boat house, where your tour begins. This tour is an especially great option for small groups, as each boat only fits 3-4 people, allowing you to experience private, unique views of the Oxford skyline.
With the opportunity to pack a picnic and enjoy a pimms, why not make a day of it?
Guided punt
Magdalen Bridge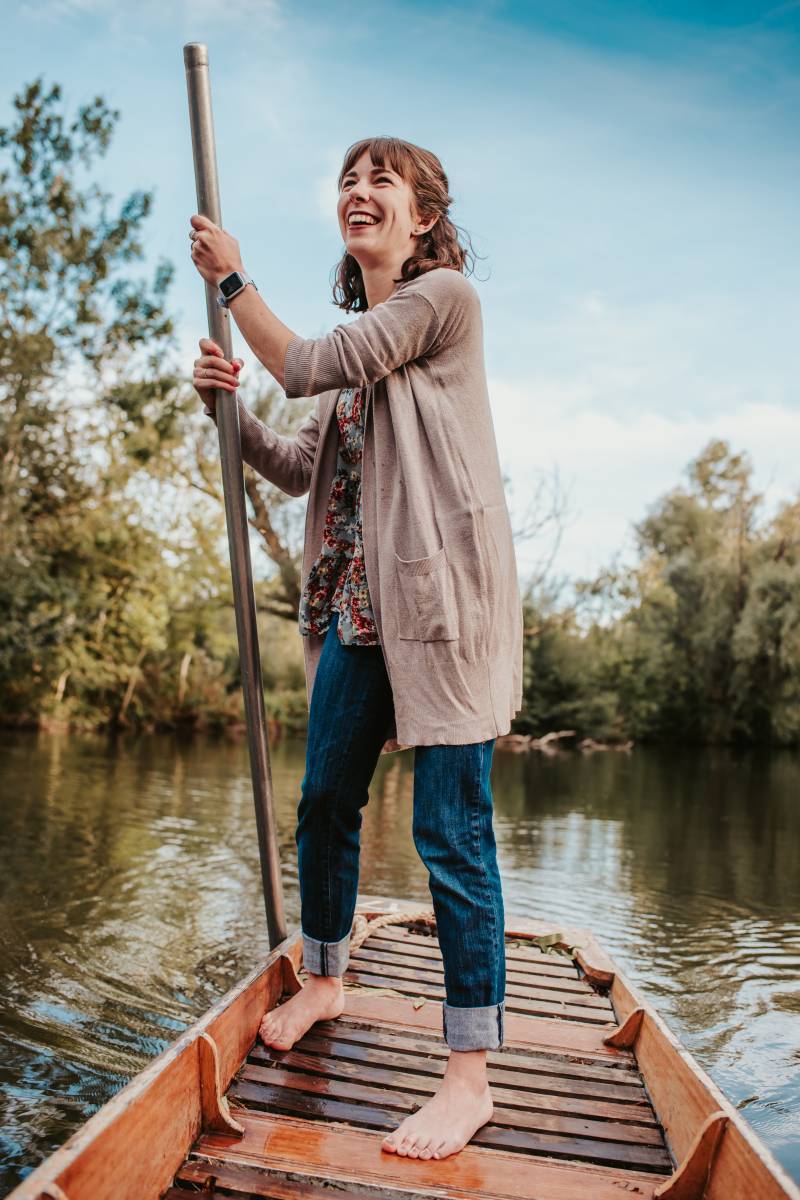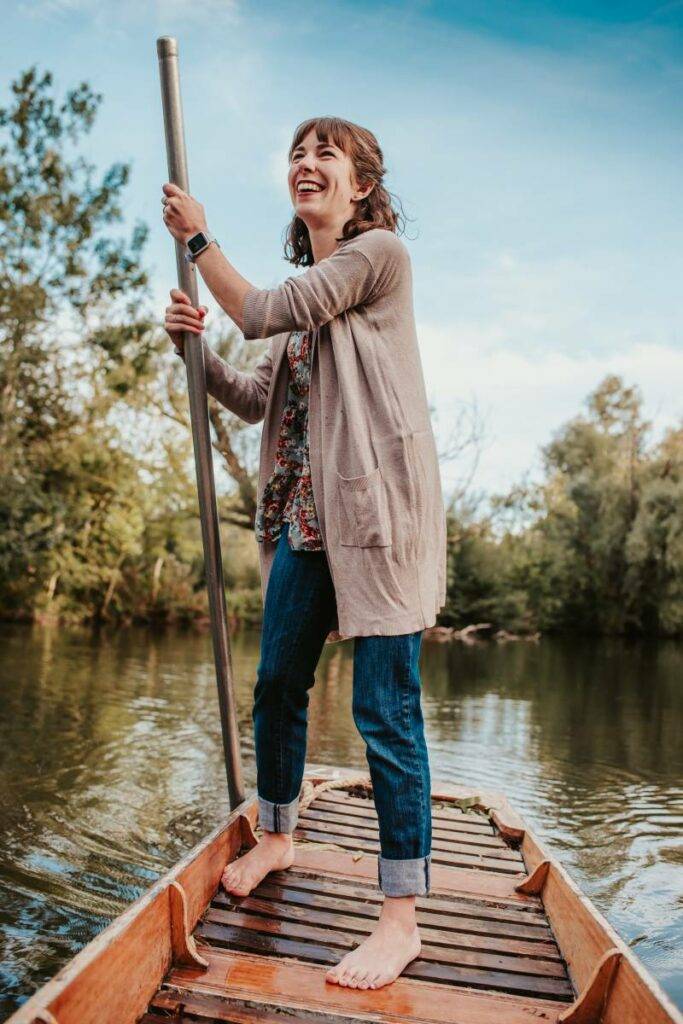 If you're after a typically-Oxford tour, with the opportunity to experience the age-old tradition of punting alongside a knowledgeable guide, head over to Magdalen Bridge Boathouse.
Their chauffeured punting tours start at £35 for 30 minutes – which means the more of you there are on board, the better this deal is. With no time constraint, if you simply fancy exploring further, then don't sweat it, your chauffeur will take care of the rest.
You'll travel south from the boathouse, past the Botanic Gardens and through Christ Church Meadows. If time allows, your chauffeur will continue along to the south of the Isis, where the river opens up and the constraints of city life are left far, far behind.
Celebrating in Oxford? Magdalens also offer hen party packages, including punting followed by a tasty picnic and some bubbles. Your chauffeur will drop you off at a gorgeous spot along the river and will return to escort you safely back after one too many proseccos.
Chauffeured Punting Tour
For the ultimate Oxford experience, splurge on a chauffeured punting tour. Up to four people, plus the chauffeur, can clamber into a punt and explore the Oxford countryside from the tranquillity of the water.
Ready to meet your chauffeur? He's a seasoned Oxford graduate with years of experience punting along the waterway.
Starting at the Cherwell Boathouse, you'll be punted past the playing fields of the Dragon School—graced by Hermione Granger herself.
You'll then wind downstream, discovering University parks and the former nudist site for the Oxford Dons, all whilst the guide shares his stories of Oxford's past.
If the weather plays ball, you're more than welcome to bring a few drinks on board to transform this punt into a luxury experience whilst sipping champagne along the Isis River.
River Cruise and Afternoon Tea
Whilst, technically, this isn't a punting trip, it is an opportunity to float along the river whilst stuffing your face with cake – sounds like a winner to me! Indulge in an afternoon tea sightseeing cruise along the River Thames for an afternoon filled with heady fun and tasty food.
Cruise along the University's Regatta course, passing historical landmarks as you travel towards Iffley lock, which sits on the southern outskirts of Oxford. Onboard, one of our favourite Oxford restaurants, The Folly, provides a delicious selection of finger sandwiches, decadent cakes and scones, and tea for you to enjoy.
This is famously an exciting section of the river. From here, you'll be able to spot wildlife and appreciate the striking landscape, all whilst dodging the cheeky ducks, training rowers, and punters sharing the water with you.
This tour is highly recommended for groups of friends, especially if the idea of punting yourself sounds too much like hard work.
Rent a punt (self-punting)
Magdalen Bridge Boat Rental
Okay, so you're feeling brave enough to tackle the water without a guide?
Magdalen's Bridge Boat Rental has a range of vessels for you to explore the Oxford waterways on, including punts and small boats. And yes, of course, they even have pedalos.
For £25 an hour, you and four friends can pile into a punt and take to the river on your own – at a fiver each, that's a serious bargain. If you're feeling extra adventurous, feel free to make a day of it and return the punt at the end of the day. And don't panic if you're a total beginner, Magdalen's offers basic training to show you the ropes.
Magdalen's recommends a couple of routes, the first being north from the boathouse and along past Magdalen College Gardens, where the quaint Oxford countryside awaits. Or, take a southern route past Oxford's botanical gardens to Christ Church Meadows – famous for being the location that inspired Lewis Carroll's Alice in Wonderland.
Cherwell Boathouse Punting Rental
Starting north of Oxford? I highly recommend renting a punt from Cherwell Boathouse for a less-traversed punt along the Cherwell. For just £20 per hour per punt, this is easily the best value punt rental in Oxford.
Although punting in Oxford doesn't usually require much experience, Cherwell Boathouse recommends that you at least have a little bit of knowledge of the water due to the conditions.
Not only do they offer punt rental, but Cherwell Boathouse also has a great restaurant where you and your mates can fuel up before punting south towards the city centre. Or, after a lazy Sunday punting session, fill your boots with a hefty roast dinner.
Sounds like the perfect way to end your weekend, if you ask me.
Punting in Oxford 101
Which end of the punt do you stand on in Oxford?
Don't fret if you haven't got a clue – fierce rivalry between Oxford and Cambridge has led to much deliberation over where to stand when punting. Many people believe that in Cambridge you stand at the back, whereas in Oxford you punt from the front, although this isn't quite right.
Whilst punters in Cambridge tend to stand at the back of the boat on the flat till, Oxford boats have a slight slope near the back, so the person doing the punting stands about 2ft from the end of the boat, using the pole vertically to the side of the boat.
Don't worry too much about this as you can always ask the punt rental place to show you, and you'll soon get a feel for what feels right once you're out on the water.
What's the difference between punting in Oxford and punting in Cambridge?
Whilst the punt style is slightly different, the main difference between the two is the view from the boat. Mainly want to see colleges? Cambridge may be better for you.
Want to see the University Parks, Lady Margaret Hall, along with other historical sites and pretty landscapes? Oxford is your best bet.
Do I need to get a guided punt?
Technically, no – but a guided punt can make for a much more relaxing experience. And who doesn't want to experience a private tour of one of the prettiest cities in the UK?
Should I punt on the Cherwell or the Isis?
FYI, the Isis is the local name for the River Thames, and whilst you can punt on either, I much prefer the Cherwell as it is smaller and easier to navigate (especially helpful if you're new to punting in Oxford)!
Plus, you can punt up to some lovely pubs if you have the patience. What's better than a punt and a pint? Absolutely nothing.