Best Walking Tours of Oxford
Insider Oxford is supported by readers like you. If you buy something through the links on the website, I may earn a small commission. Cheers! Learn More
As a beautifully historic city with lots to see, there are plenty of Oxford walking tours to get involved with.
But which one is best? Well, that depends on what you're after. Big Harry Potter fan? There's plenty of options for you here. Or, if you'd love to see the iconic university and its stunning surroundings, you're also in luck.
Whichever kind of walking tour tickles your fancy, we've compiled a guide with our favourites to help you choose. So have a read through of the best Oxford walking tours the city has to offer, and prepare to whip out your comfiest trainers.
Best Walking Tours in Oxford
Oxford University and City Tour
After a classic tour of Oxford? Then this University and City Tour is your best bet. You'll get the opportunity to wander through cobbled streets, ancient cloisters, and historic university halls, living out your wildest Oxford dreams.
Join a member of the prestigious university's alumni and be transported on a tour through the city spanning decades, learn about the age-old rivalry between Oxford and Cambridge, and discover filming locations used in Harry Potter movies and popular tv series Brideshead Revisited.
Sounds great right? Well the price is even better – for just £14.95, you'll be treated to a 90 minute tour packed full of famous sights and hidden gems dotted throughout the city.
Harry Potter Tour
Potterheads just have to take a Harry Potter Tour in Oxford. With so many of the medieval buildings here inspiring the series, and with many filming locations throughout Oxford, it really does feel like you are being given an all-access tour of the Harry Potter franchise.
This tour is filled with tidbits and behind the scenes facts on the locations used in the films, and you'll even have the chance to visit the Bodleian Library, which was used as the Hogwarts' infirmary (can't promise you'll run into Madam Pomfrey, though).
At just £19.99 per person, this is a great-value way to get up close and personal with the places in the infamous magical series.
C.S. Lewis and Tolkien Walking Tour
Lovers of literature will adore this C.S. Lewis and Tolkien Tour that takes you around C.S. Lewis' Magdalen College and the stunning gardens of Tolkien's Exeter College.
After a brief introduction about the Inklings Oxford University Literature Club and the history of the city, you'll be taken on a tour around Oxford to see some of the pubs, architecture, and gardens that inspired the literary greats.
Fancy a pint? You can even opt for a pub stop on the tour to quench your thirst.
At £35 per person for 2 hours, this tour is a bargain – you're getting to see the best of the city, all whilst a knowledgeable guide introduces you to the former playgrounds of C.S Lewis and Tolkien – pretty great value, if you ask me.
Inspector Morse Tour
Another one for literature fans is the Inspector Morse Tour.
On this tour you'll get to put your own detective skills to the test as you explore Morse filming sites like the Randolph Hotel, the castle, and Bodleian Library to try to spot any traces of the much loved inspector.
And, of course, it wouldn't be an Inspector Morse tour without a trip to his favourite pub jaunts – you'll even get to visit the bar named after Morse, where author Colin Dexter used to visit.
Sounds good right? For £29.99 this is a jam-packed tour filled with golden nuggets of information about the infamous British character.
Historic Pub Tour
Want to discover why one pub in Oxford has over 4000 ties decorating its walls? Of course you do – and you can find out this and lots more on a Historic Pub Tour around the city.
And obviously, there's nobody better to tell you about the history of ale and Oxford pubs than a current uni student (and to take you to all the best boozers!).
Starting in the city centre, you'll tour some of the oldest pubs in the UK, learn about their medieval history and the traditions that still rule the city today, as well as getting to try some of the best local beers (not included in the price of the tour, but at just £16.99 you should have some pennies spare for a pint!).
Ghost Tour
Ready for a fright? This Oxford Ghost Tour, led by author of 'Haunted Oxford', Rob Walters, is sure to thrill.
For £22, discover the mysterious side of the city in the dark and hear about the myths and legends that rule the city, from an expert in all things creepy. Learn about the gruesome murders, religious persecution, and viking history of the city, all whilst admiring the stunning buildings as they are illuminated in the evening lights.
This tour takes place rain or shine, so make sure to bring an umbrella just in case – we all know British weather can be unpredictable!
River Punting Trip with Walking Tour
If a tour completely on foot sounds like too much hard work, why not take a River Punting Trip with Walking Tour included?
Relax whilst you spend an hour floating down the river, learning all about Oxford University and student life, rowing and punting, as well as catching a glimpse of some of the city's most iconic buildings.
This is followed by a city tour on foot, where you can choose to delve further into Oxford's history – at £100, this is a pretty good deal, since punting alone can cost that for a couple of hours.
Want to learn more about punting? Check out our Punting in Oxford Guide.
Alice in Wonderland & Harry Potter Tour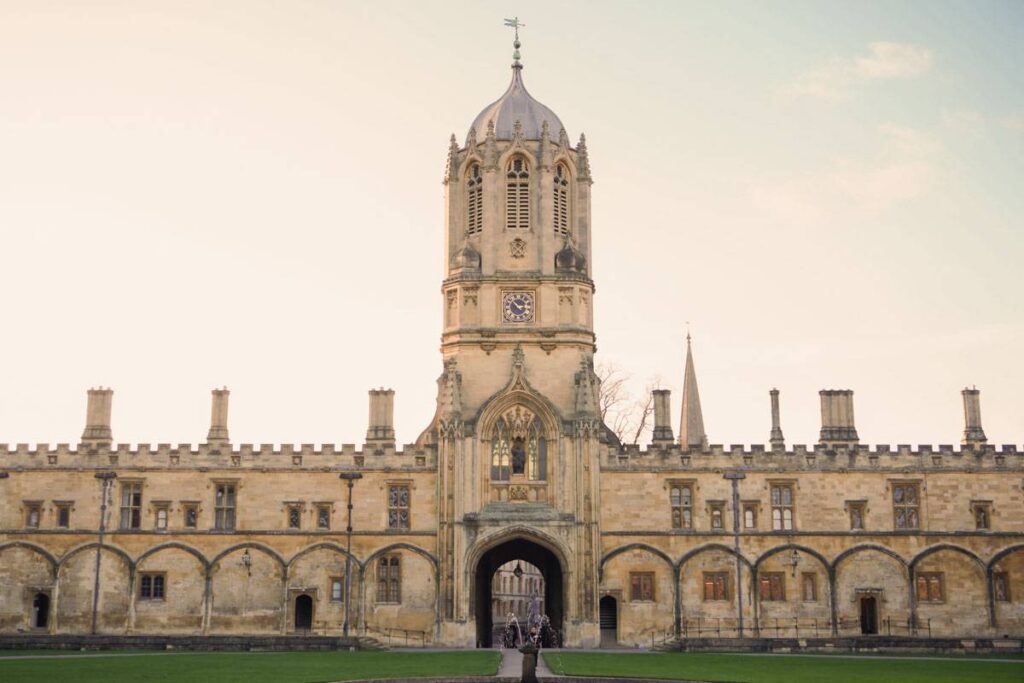 The combination of Alice in Wonderland and Harry Potter might seem random (and, honestly, it is) but this walking tour takes you to all the sites that inspired these two literary treasures.
Along with the Bodleian Library and the university, you'll get to explore Christ Church, where your guide will tell you all about the little girl who really inspired Alice in Wonderland, as well as taking a trip to the local sweet shop she visited – it would be rude not to.
Prices and times vary depending on what you want to do on this tour, so check out the availability now.
Philip Pullman Tour
Ready to dive into the world of His Dark Materials? This fully endorsed Philip Pullman Tour lets you do just that.
Your expert guide will show you around all the jaunts that were explored by Lyra and Will during the series, including Bodley's Library, The Covered Market, and the Pitt Rivers Museum.
Can't get enough? You can even choose to extend your tour to the outskirts of Oxford, visiting the Botanic Gardens, Godstow Abbey, as well as Jericho (highly recommended as there's lots of great places to eat here!).
University Student Life Tour
The University Student Life Tour is an intimate tour that spills the secrets of student life in Oxford, followed by a delicious lunch in one of the elegant university dining halls.
You'll be led by a graduate guide in a group of 6 max, so it's incredibly personal with plenty of opportunity to ask questions – and, if you're anything like me, you'll want to know lots more about the striking buildings you'll be seeing.
Have no fear, you don't need to be a prospective student to take this tour – everyone is welcome to delve deeper into the university student life.
With tours starting at £85 and running every day, there's plenty of opportunity to get involved.
Shakespeare's Oxford Tour
The award for the quirkiest walking tour goes to… Shakespeare's Oxford Tour, complete with live actors accompanying you through the cobbled streets.
Make your way through one of the cities that inspired the bard and learn about its colourful history, all whilst lively Shakespeare characters make an appearance – where else could you find Romeo in Oxford?
Prices and times vary, and for the ultimate experience, you can even book a private tour for £150.
Food and Drink Sightseeing Tour
Fancy eating your way through the historic city centre? Who doesn't? Embark on a Food and Drink Sightseeing Tour to get the inside scoop on where locals chow down, as well as the markets with the best street food.
Being one of the most cosmopolitan cities in the UK certainly has its perks; the variety of cuisines in Oxford is vast. From Indian stalls serving up deliciously spicy snacks to elegant French-inspired restaurants with traditional plates, there's something to suit everyone's palette.
Tours can cost between £30-£100 depending on the size of the group, but with the opportunity to sample some delicious food whilst also seeing the stunning city, it's great value for money.