Visiting Oxford: What You Need to Know
Ready to discover Oxford?
Seeping in history, this dreamy city is bursting with brilliant things to do, fun bars, and highly-rated restaurants. From interesting museums to acclaimed Colleges and beautiful country walks, visiting Oxford is like stepping back in time.
Not sure where to start? Don't fret. We've covered everything from transport and hotels to what you need to pack and how you should spend a day or two in the historic city.
Follow in the footsteps of C.S Lewis and Harry Potter, take to the river for a spot of punting, or spend an afternoon exploring the blooming lovely Botanic Gardens – however you decide to spend a day in the city, you're sure to be charmed by Oxford's cobbled streets and magical spires.
Of course, no trip to Oxford is complete without nipping into an old fashioned boozer for a pint or two – and the culinary scene just so happens to be popping, too. Whether you're in the mood for a fancy meal or just want to tuck into some simple but incredibly tasty fare, Oxford's got it all going on.
Don't miss this Insider's Oxford guide to help you get the most out of your trip to the city.
Best Time to Visit Oxford
Any time of year is the best time to visit Oxford.
Summer brings warmer weather perfect for punting on the river and exploring the countryside on long walks, whereas winter sees the cobblestone lined with Christmas markets and twinkling lights (though, you'll need to wrap up warm!).
If you want to avoid large crowds, head to Oxford during spring or autumn – the weather is calmer and the main tourist attractions will be less busy.
Handy Travel Resources for Your Oxford Visit
By Air
When travelling by air, flying into London is the easiest way to get to Oxford, and Heathrow Airport is the closest international airport. From here you'll be able to get a direct OXF bus straight to Oxford city centre.
Skyscanner – This site is great for comparing and searching for flights, although we recommend purchasing flights directly from the airline's website.
Google Flights – Setting up notifications for flights on Google is a great way to get notified of any dramatic price changes. You can track a specific route and date and you'll get an email if the price drops, so you can snag a cheap deal.
By Train or Bus
Oxford's train station is right in the city centre, so getting a train is very easy. From London, it's a 50-minute journey.
If you prefer to come by bus, multiple departures from Green Line Coach Station in Victoria and other locations in London run daily. The journey takes less than two hours and delivers you straight to the centre of Oxford.
The Trainline – Download the app for cheap train tickets and full timetables. If you're coming from London, an off-peak ticket to Oxford costs around £28.
Megabus – Extremely cheap bus travel is available with Megabus. If you don't mind a slightly longer journey, this is a great way to save money.
The Oxford Tube – Frequent coach service connecting London and Oxford.
Where to Stay in Oxford on Your Visit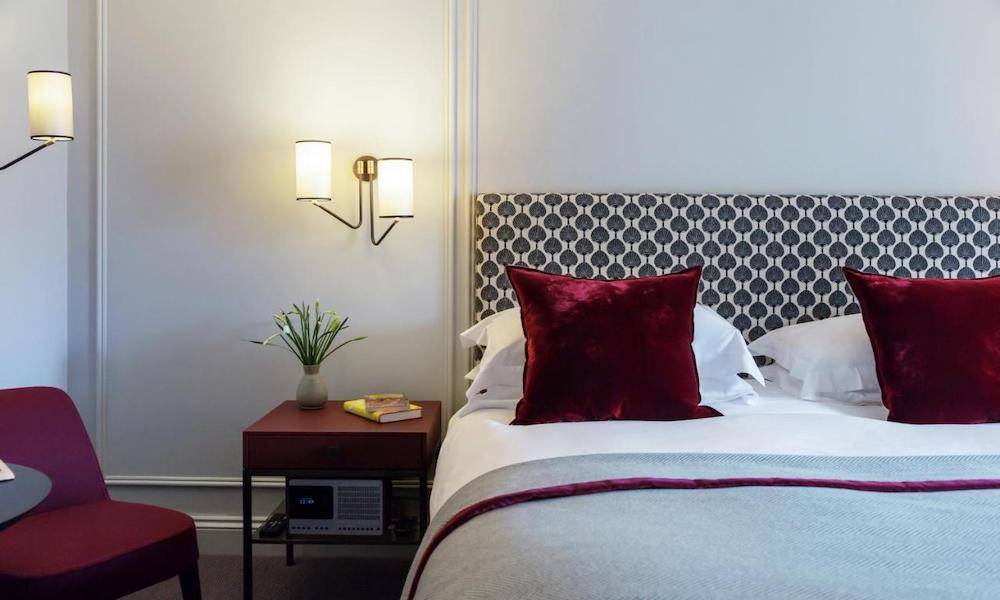 High-End: The Old Parsonage
Looking for a whole lotta luxury? Book a stay at The Old Parsonage – starting at £276 for a double room. This beautiful 17th-century country house is bursting with character, although the rooms are surprisingly light and bright.
The on-site Parsonage Grill offers delicious British cuisine, courtesy of Head Chef Allen Mclaughlin. Served in a boho restaurant overlooked by portraits of famous writers and artists.
Mid-Range: Malmaison Oxford
Situated inside a former Victorian prison, the Malmaison is one of the coolest hotels in Oxford.
Each cell door hides a luxurious room boasting original features. Velvet headboards, freestanding baths, and jewel-toned accessories make the idea of spending a night in prison rather appealing.
Budget: Remont Oxford Hotel
Located in the Summertown area on the outskirts of Oxford, Remont Hotel is a basic but fully equipped option for accommodation when visiting Oxford.
Rooms are colourful and decently-sized, and the outdoor terrace provides the perfect respite after a day exploring the city.
Airbnbs
Renting an Airbnb is a homely alternative to staying in a hotel during your Oxford visit, especially for longer stays. Think about what features you want: a hot tub? A balcony? Stay in real homes, right in the heart of the city.
Plum Guide is a brilliant alternative to Airbnb, with carefully curated homes providing a comfortable stay in Oxford. We LOVE this property in Jericho – a stunning Victorian terrace home with a cosy library nook and pretty galley kitchen.
How to Plan Your Visit to Oxford: Before You Go
Need More Tips and Guides for Where to Stay in Oxford?
Check these out…
Where to Stay in Oxford
The Best Airbnb's in Oxford
Packing for Your Oxford Trip
In true British style, the Oxford weather is very unreliable, so you'll need to pack appropriately – even in the summer, it's ideal to bring an umbrella and a jacket with you.
It's also a good idea to bring sensible shoes as many of the paths are cobbled and you'll likely be racking up those steps.

Oxford Visitors Guide: What to Do During Your Oxford Trip
Top 5 Things to do in Oxford
Radcliffe Square
Named after John Radcliffe after he left large amounts of land to Oxford University, Radcliffe Square sits in the centre of the city.
A combination of cobblestone and grass surrounds the iconic Radcliffe Camera, with the University Church of St Mary the Virgin and a historic library also located in the area.
Punting on the River Cherwell
You can get the full lowdown on punting in Oxford here, but punting on the Cherwell is a popular activity during the warmer months.
If you're new to punting, opting for the Cherwell is a lot easier than the Isis (what locals call the Thames) and allows you to explore the beauty of the countryside from the comfort of your own little boat.
Harry Potter Tour
We think that Oxford is the UK's most beautiful city… and it looks like the Harry Potter producers thought so too, as much of the filming took place in Oxford.
Lucky for you, we've compiled a handy guide to Harry Potter locations in Oxford that makes taking yourself around the city a breeze.
Have a Pint in one of Oxford's Historic Pubs
Oxford is filled to the brim with historic pubs, and you need to pay a visit to at least one during your trip.
From watering holes graced by the likes of J.R.R Tolkien and C.S Lewis to quirky taverns and haunted spots, there are plenty of places in Oxford to sink a pint or two.
Cocktails in Jericho
Jericho is Oxford's uber-cool neighbourhood, filled with fun cocktail bars, independent shops, and dinky cafes. If you want to check out the nightlife in Oxford, you'll want to head here first.
Love Jericho, Freud, and Angels are three of the most popular cocktail spots in the area. Pop into a bar (or even better, make it a crawl) for innovative concoctions at a reasonable price.
The Ultimate Oxford Bucket List
Cool Things to Do In Oxford
Suggested Oxford Trip Itineraries
One Day Oxford Trip
If you're only in Oxford for one day, get to the city early and start your trip at one of these delicious brunch spots. Once you've filled your boots and indulged in a mimosa (or five), you're ready to take on the day.
Don't try to pack too much into one day – visiting Radcliffe Square, The Ashmolean Museum, and The Bodleian Library are musts. To get the most out of your day, consider taking yourself on a self-guided walking tour.
Read More: How to See the Best of Oxford in a Day
Two Days in Oxford
Two days in Oxford allows you plenty of time to visit one of the Colleges – we love Magdalen and Christ Church. You'll also have time to go punting one afternoon, which, if the weather plays ball, is one of our favourite things to do in Oxford.
Or, if you prefer, head to the Botanic Gardens and spend a day exploring exotic blooms before heading to Jericho for cocktails in the evening.
Get off the beaten path and discover these Oxford spots.
Port Meadow – One of Oxford's prettiest parks, located next to the Jericho area. Head here to explore over 300 acres of open space, admire grazing cows and ponies, and even dabble in fishing. Bring a picnic and spend an afternoon in Port Meadow.
Keble College – In stark contrast to the sandstone Colleges dotted across the city, Keble College is a Victorian Gothic redbrick just waiting to be explored. The chapel is breathtaking, complete with the famous Holman Hunt picture The Light of the World.
Oxford Museum of Natural History + Pitt Rivers – Sitting side by side, these two museums, and particularly Pitt Rivers Museum, are hidden gems in Oxford. Often outshined by The Ashmolean, the treasures inside these buildings go undiscovered. Expect natural wonders and global exhibitions.
Duke of Cambridge – Duke's is a casual bar in Jericho, offering a wide selection of fun cocktails, surrounded by greenery and modern decor.
How to See the Best of Oxford for Free
Ashmolean – Oxford University's museum for art and archeology is one of the best things to do when visiting Oxford. First founded in 1683, the museum is home to a diverse collection free to discover.
Wadham College – It can be difficult deciding which of the many Oxford Colleges to visit. Luckily for you, many of them – including Wadham College – are free to explore. You'll get to take an insightful peek inside one of the most historical institutions in the UK.
Watch a Game of Cricket in the University Parks – The University Parks can be found just across the road from Keble College. It's the perfect spot to unwind as you watch the university sport clubs play cricket, rugby, or even a game of quidditch.
Christ Church Meadows – With the River Cherwell running parallel, Christ Church Meadows is located just five minutes from the centre of Oxford. Take a stroll, admire the longhorn cattle, or chill out on the grass with a picnic and a good book.
Where to Eat in Oxford During Your Visit
Don't Miss These Top Picks:
Vaults Cafe – This cafe is tucked away inside St Mary's Church on Radcliffe Square and serves up deliciously healthy lunches. Head there in the afternoon for a pot of tea and a pastry – you can't go wrong.
Oli's Thai – A family-owned restaurant and shop serving up flavourful Thai dishes with plenty of vegetarian options. The Gang Garee curry with celeriac and butternut squash seriously impresses.
Quod – Fancy brunch set on a pretty terrace and with historic views of the heart of Oxford? We're completely sold. Wash down with one of their famous cocktails and thank us later.
Brasserie Blanc – A delightful French restaurant, courtesy of the award-winning Chef Raymond Blanc. The seasonal dishes are created using local ingredients to add a British touch, and the wine menu pairs perfectly.
Read More: Where to Eat in Oxford
Where to Drink in Oxford
Oxford is filled with plenty of brilliant places to grab a drink, from the vibrant bars in Jericho to the historic boozers dotted around the city. These are the spots you shouldn't miss.
Duke of Cambridge – Delicious cocktails in a beautiful setting. Head here for the legendary Happy Hour from 4pm to 9pm Sunday to Thursday and 4pm to 7.30pm Friday and Saturday.
The Bear Inn – Dating back to 1242, this is one of the oldest pubs in Oxford. Expect traditional beers and a vast collection of ties from local colleges, clubs, and schools.
Turf Tavern – Hidden down a couple of alleys, Turf Tavern boasts a pretty pub garden and gorgeous views. It's run by Greene King, so there are plenty of beers, wines, and spirits to enjoy.
Freud – A popular joint for cocktails in Jericho, the bar is located in St Paul's Church. This is the sister site for the popular London bar and cafe, so expect high quality cocktails in a beautiful setting.
Day Trips from Oxford
Need more Oxford inspiration? Check these out…
Oxford Visitors Guide: Basic Tips and Tricks for Making the Most of Your Stay
It might be tempting to hop on one of those bright, red buses – but resist. Oxford is entirely walkable and best explored on foot.
Most of the museums in Oxford are free to enter so make the most of them. Particular highlights include The Ashmolean and the Natural History Museum.
Hotels in Oxford are reasonably priced so try to stay as centrally as you can afford. This will ensure you spend little on transportation as you'll be minutes away from all the main attractions.
Tipping In Oxford
Oxford doesn't have a big tipping culture – tips are around 10-15% (though more is always appreciated) and you're perfectly entitled not to tip if the service has been bad. A service charge of 12.5% is often added to the bill in many bars and restaurants.
---
Love this Oxford Travel Guide? Save for later and share on Pinterest!
Simply hover over any of the images to save it for later.
---
Looking for More Oxford Travel Guides?
Check these out…
Harry Potter's Oxford
Historic Oxford Pubs
Where to Stay in Oxford